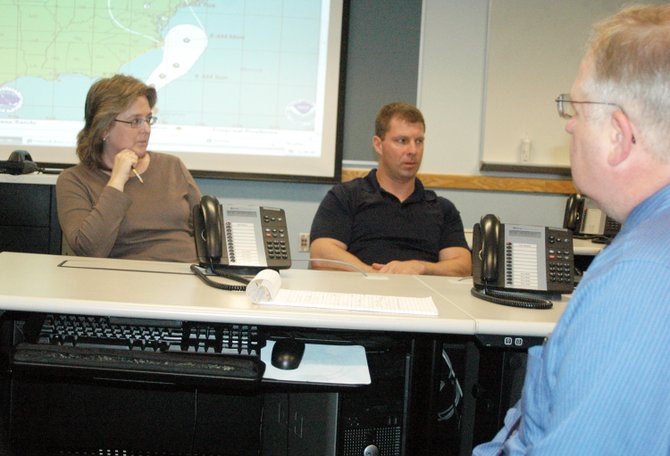 continued — Douglas said that, because of the amount of warning, the county and town will be as prepared as possible this time around.
"Last time the threat was there but I think a lot of it was not realizing the impact that the storm could have on us until it was almost here," Douglas said about Irene. "This time we are well prepared. We are coming at this as if we are going to take a direct impact."
Keene Supervisor William Ferebee is also working to prepare a town that was hit hard by Irene last year.
"I put out an alert to my constituents advising them of the potential of the storm with high winds and possible flood conditions," Ferebee said. "We are advising that those on the flood plane should prepare to evacuate property now instead of later. We have made sure all of our generators are full of fuel and that they start. The highway trucks are prepared and they have all of the barricades and cones in a central location, and there is sand at the transfer station for those who want to fill bags."
Ferebee shared the same hopeful yet cautious approach to the storm.
"We are hoping and praying that it does not, but preparing in case it does," he said. "We're talking it up and making sure that everyone is on board."
Jaquish said that with more warning, Essex County is putting more resources in place before the storm hits, including preparing the Emergency Operations Center, which will be run by Patty Bashaw.
"We have a list of who was here last time and we have already touched base with them," Bashaw said. "We will have the key players in place and we will be ready to ramp it up to whatever level we need to be at in order to respond."
Deputy Emergency Services Director Michael Blaise said he had been in touch with local fire departments and EMS squads.
"We have been talking with departments and will have conference calls to discuss the plans and issues they may have," Blaise said.
Jaquish added that he is very confident in the team assembled to deal with the potential severe weather situation.
"They had 18 days of on-the-job training last year," he said.
Vote on this Story by clicking on the Icon