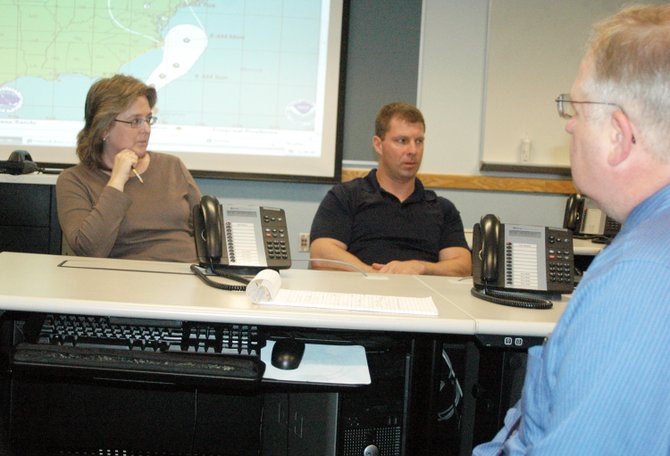 Lewis — Members of the Essex County Office of Emergency Management spent the morning talking to agencies from throughout the region and state Oct. 26, preparing for Frankenstorm.
"Frankenstorm," the name given to a potential early week combination of an arctic front with the approaching Hurricane Sandy, has led emergency officials in the county to start planning for the worse one year and two months after Tropical Storm Irene slammed into the region.
"We really started ramping up yesterday (Oct. 25)," Emergency Services Director Don Jaquish said. "On its current path, we are expecting high winds, power outages and minor flooding. If it stays on the predicted path, we will open the Emergency Operations Center Monday at 7 p.m. and expect the highest winds and most damage around midnight and into Tuesday morning."
The current path has the bulk of the storm making landfall in southern to central New Jersey and running through Pennsylvania, although other models have the storm taking a similar path to the one Irene made in August of 2011, hitting shore in northern New Jersey and making its way up the Hudson River Valley and into the North Country.
"This dog-leg that is predicted in highly unusual, and we are still being very cautious and preparing for a storm that may be coming more toward us," Jaquish said. "Right now, we are looking at between one to three inches of rain, but if the storm shifts we could get between five to seven inches, and then we would have major flooding."
Jay Supervisor Randy Douglas, who also chairs the Essex County Board of Supervisors, said he is preparing for a direct impact event.
"We have been on conference calls and I have been working with Black Brook and Keene to be prepared for the potential of flooding," Douglas said. "We are loading sandbags, making sure that our generators are up and running, preparing the shelter at the Jay Community Center and working with the school in case we need even more space for shelter and services."
(Continued on Next Page)
Prev Next
Vote on this Story by clicking on the Icon