"I have seen aggressive behavior in some Labrador Retrievers and some Golden Retrievers. No breed is immune from aggressive tendencies," Goldwasser said. "I have known many purebred Pit Bulls, i.e. American Staffordshire Terriers, that were loving and trustworthy family dogs."
Goldwasser said pits and pit bull mixes make up a large quantity of his patients. He said he has seen studies which rank dog breeds with regard to aggressive behavior (i.e. reported dog-to-person aggression) which showed that pit bulls rank quite low on those lists.

"On the whole, pit bulls tend to be outgoing, they crave attention and affection, and they are steadfastly loyal to their people. They also can be aggressive toward other dogs, although this is not universally true," Goldwasser said.
RIGHT FAMILY FOR RIGHT DOG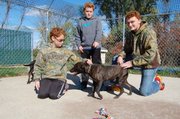 The pitbull breeds in America used to be attached to a completely different type of stigma. For over 130 years in Europe and North America, the pitbull was referred to as the Nanny dog.
"When National Pitbull awareness day came around we wanted to do something to bring awareness to this breed that was called the Nanny Dog in America," Burdo said.
Burdo said the early 1900's the pitbull was labeled as the dog to have if you wanted to keep your children safe, it was the most faithful, strong, loyal dog that loved children.
In a study of canine temperament by 1-800-PetMeds
, a pet pharmacitucal company, the American Pit Bull Terrier scored 86.8 percent out of 100 percent for favorable qualities. The Golden Retriever scored a close second with 85.2 percent.
Lillian Cassidy of the Adirondack Human Society said an ideal pet owner for a pit mix would be an active family with the time and patience to train their dog. Cassidy said she would not suggest the dog to be an apartment pet
Vote on this Story by clicking on the Icon