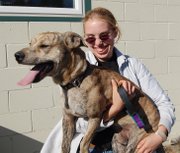 The dog breed with the highest volume in the United States is also the dog breed with the highest volume in shelters across the country.
For National Pitbull Day, Oct. 27, the North Country SPCA will be waiving all adoption fees from Oct. 26-28 for their pit bull and pit- mix dogs. They only ask that people see the breed for its loyal and loveable qualities without the sensationalized image of a fighter.
National Pitbull awareness day was created to bring awareness, appreciation and education and designed to change perceptions and stereotypes about pit bulls and their responsible owners.
At North Country SPCA in Westport, the Elmore SPCA in Peru, and the Adirondack Humane Society in Plattsburgh, shelter managers said on average the pit bull and pit mixes stay weeks, and sometimes years longer than other breeds before they are adopted.
"On average we will have a dog for about 24 days before it's adopted, pit mixes however on average are with us for three-and-a-half months," said Rebecca Burdo, Shelter Manager of the Elmore SPCA.
According to Jessica Hartley, Board member at the North Country SPCA in Westport, families will take one look at the pointed ears and rounded foreheads of a pit bull mix and say: "Oh no, not a pit bull. I just couldn't."
"People come in and dismiss these very adoptable dogs just because of some of the stereotypes about pits," Hartley said.
Angel, a brown and white staffordshire pit bull, has been at the Westport shelter for more than a year.
Pam Rock, shelter manager at NCSPCA, has labeled her the "Volunteer Favorite" for her wonderful manners on a leash and her absolutely happy demeanor.
"When someone comes to take her, she walks with everyone and she doesn't really pay any attention to other dogs," Rock said. "She would be the perfect dog to cuddle up with her owners at the end of the day and go for long walks and hikes during the day."

(Continued on Next Page)
Prev Next
Vote on this Story by clicking on the Icon