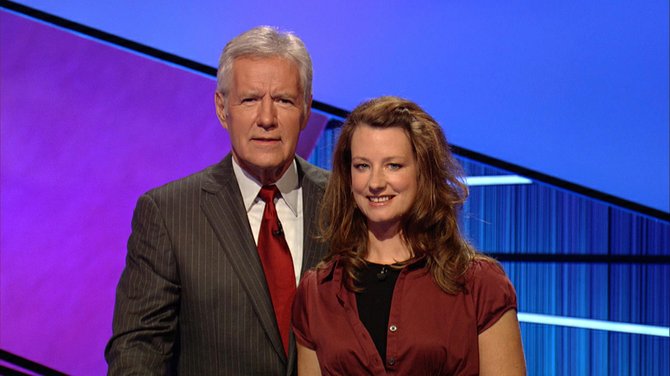 continued — Even after 30 minutes, the crowd at Basil & Wick's didn't know the surprise ending that was edited out of the show.
Sarah's journey
Sarah's "Jeopardy" journey began in January with an online test of 50 questions on the game show's website. At the end of April, she received an email inviting her to an in-person audition. She and husband Jeremy took the train from Albany to New York City, where she auditioned for "Jeopardy" at a hotel on June 5.
Sarah began jumping through more hoops, including a 50-question written test, a screen test with a fake game using a real buzzer, and a public speaking test where she had to improvise stories about herself in front of strangers.
"They kept saying, 'Show us what you've got. This is a TV show. We're here to entertain. We know you're all smart. We want to see if you can be on TV,'" Sarah said.
The Jeopardy crew also shared larger-than-life statistics about their odds, giving would-be contestants a slap in the face of reality: out of the 100,000 people who take the online test, 3,000 are invited to in-person auditions, and 400 are invited to be on the show.
"You had to stand up there and be sparkly, and I pulled it off," Sarah said. "I walked out of there feeling pretty good about it. Exactly two weeks later, I got the call."
Sarah's show was taped Aug. 8 at the Sony Pictures Studios in Culver City, Calif.
Jeopardy round
The Jeopardy round featured the following six categories: The 5 Senses, Hearing, Smell, Taste, Site and Touché.
Returning champion Keith started by choosing Hearing for $200.
"A removal hearing is a step toward this, sending an illegal alien back to his or her homeland."
Sarah buzzed in first.
"What is deportation?"
Vote on this Story by clicking on the Icon