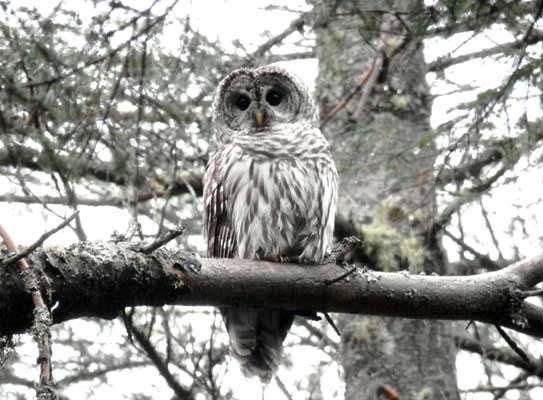 Four ponds and three long carries later, I had still not seen, or even heard a grouse stirring. It was as if the darn birds had evaporated from the local woods overnight.
However, as I approached the final pond on my route I heard a bird flush in the thick spruce forest. I grabbed my shotgun, and left my boat behind as I slipped quietly into the nearby woods.
Up ahead, I heard a rustling and as I crouched to peer through the tangle of limbs and thick cover; I had a sense I was being watched.
Most woodland wanderers have experienced a similar situation; especially deer hunters who discover a big buck had been eyeballing them as the white flag disappears into the distance.
It is a difficult sensation to describe, but I just knew something had its eyes on me. Finally, I gave up on the understory and as I slowly stood up, my eyes focused on the observer.
Perched on a limb, less than 20 away, was the largest Barred Owl that I had ever seen. He rotated his head around, and glared at me. I flushed with embarrassment, as I had been sneaking through the forest, while under constant observation. It was to be the only flush of the day.
With my cover blown, I stood up to face my winged observer, as I fumbled for a camera. Fortunately, the old owl was willing to pose, and I was able to capture several nice shots. Later, while reviewing the images, it appeared the owl was sporting a wide smirk across its beak.
Joe Hackett is a guide and sportsman residing in Ray Brook. Contact him at brookside18@adelphia.net.
Vote on this Story by clicking on the Icon