Molly Lawliss, who finished with a third place finish on floor exercise for the Indians, is an alternate for states.
Football
As the first Section VII hardware was handed out Oct. 20, three more titles will be contested this weekend with the Class B, C and D football championship games.
The Class D title game has Moriah traveling to Ticonderoga Oct. 26, with the winner facing off against Section X/Class D champion Tupper Lake the following week.
The Class C championship game features the lone unbeaten in Section VII, as the Saranac Lake Red Storm will host the AuSable Valley Patriots Oct. 27.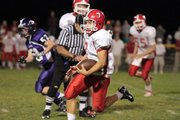 The Red Storm, coming off a 41-16 crossover win against Moriah, will be led by the balanced attack of senior quarterback Matt Phelan, who has thrown for 1,198 yards and 15 touchdowns while running for 503 yards and 12 scores. Seth Pickreign has added 325 yards and four scores for the Red Storm, with Kevin Morgan hauling in 25 catches for 576 yards and 23 touchdowns. Mike Burpoe has added 370 receiving yards.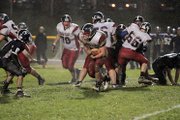 The Patriots, facing an already tough task after falling to the Red Storm earlier in the season, will be without the services of junior running back Dillon Savage, who is out for the remainder of the season with an ankle injury. Savage had rushed for 620 yards before the injury, which took place in the team's crossover game against Ticonderoga Oct. 19.
Kodie Simpson has thrown for 481 yards throughout the season, connecting on one touchdown pass to Ridge Perkett, who has 151 receiving yards.
The Class B title game will also be a rematch of the 2011 game, as Beekmantown will travel to the Apple Bowl to face Peru Oct. 27.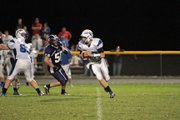 Peru was impressive in a 70-0 defeat of Plattsburgh High in the opening round of the Class B playoffs, while Beekmantown scored a 42-6 win over the Saranac Chiefs.
Vote on this Story by clicking on the Icon