The Beekmantown Eagles and Peru Indians were on the razor's edge all season when it came down to the final score, with both teams earning two wins against the other.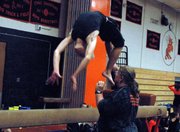 It was the final win, claimed by the Eagles, though, that was the biggest.
Beekmantown scored 154.25 points in the Section VII gymnastics championship meet in Peru Oct. 20, edging the host Indians, who totaled 148.025 points with Plattsburgh High finishing third with 136.45 points.
The Eagles were led by Alyssa Leonard, who scored her second straight all-around sectional championship. She scored the win on the balance beam with a score of 9.45, while finishing second in the vault (7.925), bars (8.275) and floor exercise (9.325).
Plattsburgh High standout Dalen Keswick finished two-plus points behind Leonard for the all-around title, scoring wins on the vault (8.65), bars (8.35) and floor exercise (9.35). On the beam, Keswick struggled, scoring a 6.55 which proved to be the difference in the final contest between the top two gymnasts in the section.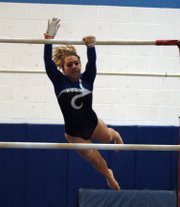 Lexi Trombley was the top finisher for the Indians, placing third in the all around competition with a combined score of 31.00. She scored an 8.35 in the floor exercise while placing sixth on the beam, fifth on the vault and fourth on the bars.
Fourth place in the all around went to Brielle Cerne, who finished with 30.625 points, placing third on bars and fourth on beam.
Alexandra Brown placed fifth for the Indians in the all around, bars and floor. Erica Leonard and Kailey Quackenbush of Beekmantown tied for sit, with both tying for second on beam.
For the Hornets, Josh Boise tied for third on the vault with teammate Karsyn O'Donnell with a score of 7.85. Both qualified for the state meet, while O'Donnell added a sixth place finish on floor exercise.
(Continued on Next Page)
Prev Next
Vote on this Story by clicking on the Icon