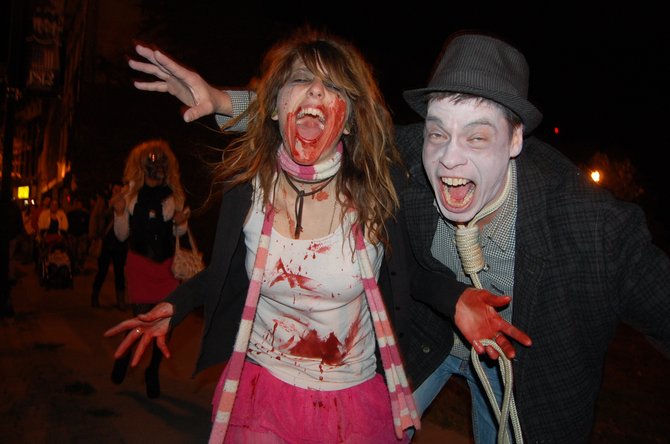 His mother, Sedona Runyon, was the first to notice the bite mark on his cheek.
"I am a zombie nurse, so I can take care of him," she muttered through steel-blue lips. "But looking at some of these people, they seem to be getting worse."
As Sedona's own zombified joints began to stiffen, she offered a cautionary statement to the still living: "A good tip is to blend in, and keep your distance."
Staying away might be good advice for some, but Kimberly Cummins wasn't taking it.
Cummins took a different approach in dealing with the zombie apocalypse. As the human organizer of the event, her desire was to look like one of the undead—and become their leader.
"First, you get a bull-horn from the city police," Cummins said. "They'll listen to anyone with a megaphone."
Cummins used the bull-horn to communicate to the mass of malevolent menaces, and then, as if controlled by some unseen hand, the horde assembled into a tattered line.
Grumbling and scuffling along, they proceeded to follow Cummins through the streets.
"They're really as dumb as bricks," Cummins said. "I have just blended in with them, and they don't know the difference."
But Cummins' intent wasn't malicious. On the contrary, she was trying to help restore their humanity.
"I'm actually leading them to a zombie rehab center, a place where they can dance their blues away," Cummins said.
Misfits tribute band Return of the Fly provided music for the zombie prom, held in Plattsburgh State's Angell College Center, which helped the fiends reconnect with their softer, gentler sides.
And as the night began to fade, so did the malicious intent of the undead, whose cheeks soon became rosy as their pulses returned.
The long sought cure for zombiism, it seemed, was not medicinal or surgical after all—it was simply good old-fashioned tender loving care.
Vote on this Story by clicking on the Icon