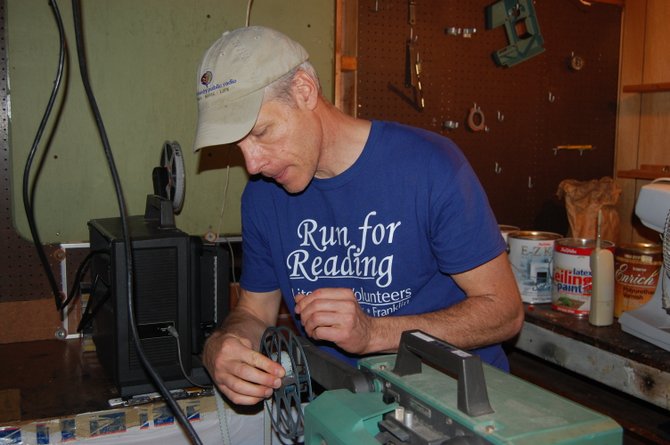 The short MacDougall shows is in black and white, featuring Jason Bernard in a chess match in which he wins an opponent's unique chess board. The film has undertones of racism, with the black opponent, shown as the underdog, beating the overconfident white opponent.
A few minutes into the film, MacDougal had to re-loop it to keep it from jumping.
After the film, MacDougall relaxed in his theater and discussed his new idea.
Picture Show Men, or Traveling Film Exhibitors, are difficult to study as their history and records are not well preserved.
They operated around the world, starting in the early 20th century and, in the United States, for example, traveled the country, stopping at ballrooms, public plazas, town halls and church halls to show their films.
"Basically, they were in rural areas where there was no access to theaters, and they set up their projectors," MacDougall said. "It was a dime for admission."
In places such as Australia, MacDougall pointed out, Picture Show Men fought for territory.
"What I am trying to do is recapture the spirit of picture show men," MacDougall said. "I don't know if I am the last one, but I am the last one in this region. There is nobody between Montreal and Albany."
In the few months since the film series at the North Country Co-Op, MacDougall has shown his films in places such as the Regina Maria Retreat in Plattsburgh, Edgewater Estates and his basement theater.
On Oct. 27, he will show a film at the North Country Cultural Center for the Arts, and on Nov. 17 the Temple Beth Israel will host a film.
MacDougall was asked to show a film at the Fantasia Film Festival in Montreal, but when he discovered "Isla, She Wolf of the SS" was playing, he called for a boycott and declined. He said the film is basically gore porn about the atrocities committed by the Nazis.
"I could not in good conscious align myself with these people."
Vote on this Story by clicking on the Icon