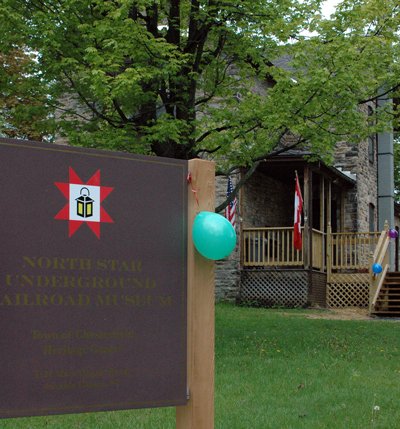 Keeseville — The room was hidden away, in the back of a barn in Peru.
A small portal granted access into the dark space, a chamber of stone and naked earth about five feet wide and 10 feet long, where people seeking freedom were hidden.
The location is one of many along the North Star Underground Railroad Museum's tour of underground railroad sites in Peru and Keeseville.
The tour was led by Don Papson, who stepped down as president of the museum so he could work on a book about the secret life of Sydney Howard Gay, an active abolitionist during the Civil War.
While driving past a farmhouse in Peru, Papson told the story about how the house's current occupants found an iron leg shackle while remodeling.
The shackle is now in the museum, and is purposely displayed open.
"Yes, the museum is about slavery, but it's really about freedom," Papson said.
The museum's tour rolled through Keeseville and Peru as Papson recounted stories about local abolitionists and the churches that were divided on the issue of slavery.
"The problem with the underground railroad is that it suggests to people that everything was underground, and it wasn't," Papson said. "Underground means secret, but the good thing about that is it keeps interest alive."
But the tour didn't just focus on keeping the past alive.
Papson told a story about a group of abolitionists who stormed a jail in Syracuse to free an imprisoned fugitive slave.
Before taking the man to Canada, where he could be free, they brought him to a blacksmith, where two sisters broke his leg irons with a hammer and chisel.
"I tell that story to empower children, because there's slavery today" Papson said. "There's more than 20 million people enslaved in the world today."
The museum's last tour of the season was Oct. 6, but its new president, Jacqueline Madison, who took over Oct. 1, is already thinking about the future.
(Continued on Next Page)
Prev Next
Vote on this Story by clicking on the Icon