Girls soccer
Crown Point 3, Westport 2, OT
Crown Point edged Westport, 3-2, in overtime in Northern Soccer League girls play Oct. 12.
Hunter Spaulding netted the game-winner in the second extra session for the Panthers.
Photo Gallery
Seton at Moriah girls soccer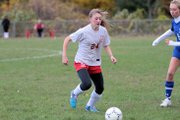 Brittany Foote and Ellen Kiely scored for Crown Point in regulation. Spaulding assisted on Foote's goal. Foote returned the favor, assisting on Spaulding winning score.
Amanda Wolf made 19 saves in goal for Crown Point.
Keene 2, Schroon 0
Schroon Lake lost to Keene, 2-0, in Northern Soccer League girls play Oct. 12.
Hannah Whitney and Elaina Smith scored for the Beavers.
Molly Wisser recorded 19 saves for Schroon Lake.
Lake Placid 2, Ticonderoga 0
Ticonderoga was shut out by Lake Placid, 2-0, in Northern Soccer Lague girls play Oct. 12.
Adele Jesmer and Liza Marinis scored second-half goals for the Blue Bombers.
Megan Campney made eight saves for Ti in goal.
Seton 4, Moriah 2
Moriah lost to Seton Catholic, 4-2, in Northern Soccer League girls action Oct. 12.
Paige Spittler and Peyton Falb scored two goals each to lead the Knights.
Halie Snyder scored twice for Moriah. Taylor Sprague and Lauren Pelkey assisted for the Vikings.
Lauren Cross made seven saves for Moriah.
Vote on this Story by clicking on the Icon