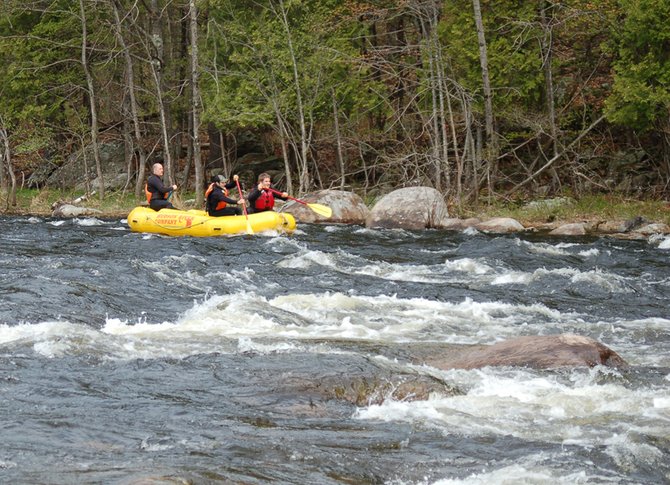 continued — The violations have included providing guides with no licenses or, in some cases, providing no guides at all. Moreover, the attorney general takes issue with the company's advertisements stating that they provide "safe" guided river rafting excursions.
"Such advertisements by respondents have been false and misleading in that repeatedly respondents have provided guides who were unqualified, intoxicated, or provided no guides at all for rafting excursions on the subject rivers which are so dangerous that qualified, professional guides are deemed necessary for consumers' safety," the petition states.
Consumers have been injured — and one killed — during the company's rafting trips.
As part of the petition, the attorney general is seeking $5,000 for each violation of the General Business Law (false advertising claims).
A hearing is scheduled for Oct. 19 to show cause for the restraining order.
Criminal charges
Cunningham had been indicted in Hamilton County Court on two counts of second-degree reckless endangerment. However, on March 29, that indictment was adjourned "in contemplation of dismissal" until Sept. 29 under three conditions:
•No raft from the Hudson River Rafting Company and/or Patrick Cunningham be operated without a licensed rafting guide, except where there is a written rental agreement that the customer agrees to "captain" his/her own raft;
•No 16-foot raft from the Hudson River Rafting Company and/or Cunningham be operated with more than 12 occupants in the raft, plus the guide;
•And that Cunningham not violate any laws, rules or regulations of the state of New York.
On Sept. 5, Hamilton County District Attorney Marsha Purdue applied to restore the indictment against Cunningham and his company because Cunningham had allegedly violated the March 29 agreement by:
•allegedly leaving his raft — with two customers aboard — 4 miles before the end of a May 27 trip down the Hudson River, essentially leaving them without a guide for a portion of the trip.
•and allegedly sending two customers down the river on Aug. 26 in a "duckie" without a licensed guide and without signing a rental agreement.
A hearing is scheduled for Nov. 20 to determine whether Cunningham violated the March 29 agreement.
(Reporter Katherine Clark contributed to this story.)
Vote on this Story by clicking on the Icon