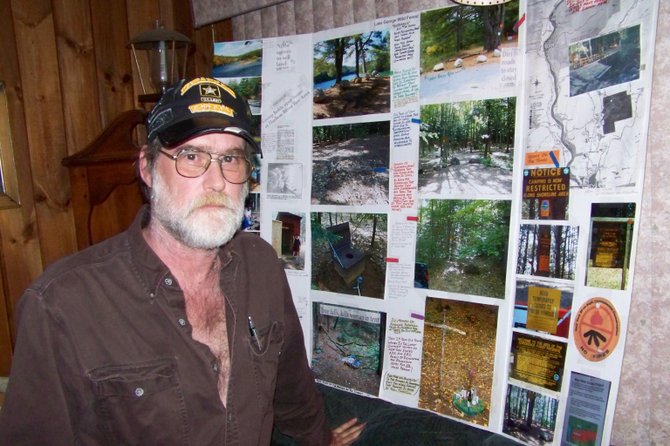 continued — While that 2001 lawsuit settlement called for improvements to many areas across the state, Galusha is focused at this point on the Hudson River Recreation area.
Where once Buttermilk had four outhouses, 15 picnic tables and more than 10 cooking grills, the grills and outhouses were removed, fires were prohibited, and access was blocked.
Where 85 or more campsites existed, only three universal access campsites remain after being downsized from 18 not long after the 2001 settlement, he said. All these campsites had featured accessible amenities including an outhouse, picnic table and fireplace.
During the last seven or so years, Galusha has occasionally dragged away the boulder barriers at Buttermilk. He's posted a video on YouTube, in which he angrily challenges a forest ranger there to arrest him.
In 2006, he was ticketed for moving logs away from a dirt road so a disabled man could drive up to one of the campsites.
What's occurred at Buttermilk, where his attention has been focused, seems almost like retribution, he said, for his lengthy fight to gain access. As part of the 2001 settlement, the judge mandated that Galusha was appointed to a state-funded watchdog post to assure DEC's compliance to the court-ordered access changes and upgrades to recreational areas.
At Buttermilk, he said, full-featured outhouses built since the consent decree were removed and replaced by DEC with a few short, open toilets with no walls, roof or privacy if any other camper is anywhere near. The campsite fireplaces were torn apart and their rocks strewn in the woods, he added. Several pleasant campsites were turned back to nature, replaced by substandard ones in low-lying plots vulnerable to flooding, Galusha said.
One of the relocated campsites, Galusha said, was inappropriately situated near a leaning tree — which fell in a storm in early July 2010 and killed a 24-year-old woman asleep in a tent at the site. Galusha had been camping about a half-mile away. Since then, he's blamed the relocation and shutdown of the campsites for her death.
Vote on this Story by clicking on the Icon