continued — LaFountain said that he would not go into more details about the motive or attack, other than to say that the death was ruled a homicide and manner of death ruled as severe internal injuries.
"There was not one piece of evidence that got us here," LaFountain said. "There were numerous interviews and pieces of evidence which led us to quickly identify these men as potential suspects."
LaFountain said that he was pleased with the work done by police and county officials along with the support and cooperation of Keeseville residents.
"We thank the DA for her assistance and the community in Keeseville that provided pertinent information and leads," LaFountain said. "The investigators were working this case continuously and it shows their extreme dedication to the case because there is no time period on a homicide."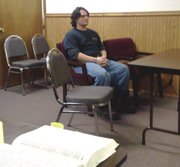 All three suspects were remanded to the care of the Essex County Sheriff's Department by Elizabethtown Justice William Garrison. Taylor was remanded without the possibility of parole, while Rivers and Denno were remanded on $250,000 cash bail or $500,000 bond. Both sought a reduction in bail but were told they would need their lawyer to make the official request.
Rivers and Denno were also placed under an order of protection to keep away from Rivers' residence, where both were staying, and Rivers' wife.
Sprague said that she planned to send the case to a Grand Jury before preliminary hearings, which were scheduled for Oct. 11.
"I cannot comment at this time on how they will be charged," Sprague said. "They could be charged separately or be charged together, but that determination has not been made."
Vote on this Story by clicking on the Icon