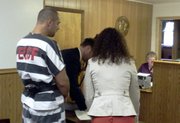 Elizabethtown — ELIZABETHTOWN — Three men were arrested Oct. 5 and then and arraigned in Elizabethtown Town Court for the beating death of 45-year-old Keeseville resident Robert Rennie, whose body was found near the closed River Street bridge in Keeseville on Aug. 26.
Paul Taylor, 39; Michael Rivers, 36; and Scott Denno, 19; all of Keeseville were each charged with gang assault first degree after investigations by the New York State Police and the Essex County District Attorney's office.
Along with the gang assault charges, Rivers and Denno were charged with first-degree manslaughter, while Taylor was charged with second-degree murder. Taylor and Rivers were charged with third-degree criminal possession of a weapon.
State Police Capt. Robert LaFountain said that the weapons were steel-toed and regular boots which were used to kick the victim.
"The victim was severly beaten and kicked with steel-toed boots, regular boots and sneakers," LaFountain said.
"They are deemed as weapons because of the manner in which they were used," District Attorney Kristy Sprague added.
Taylor had been in jail since Aug. 29, charged with first-degree rape in Keeseville. In March of 1997, Taylor was convicted of second-degree manslaughter in the death of Marcus Chadwick. According to the case, Taylor had placed a tree on Chadwick and left him on a Moriah trail to die. Taylor had been released from prison and paroled in 2010.
When asked about Taylor's criminal record, LaFountain responded, "I think it speaks for itself."
Rivers also has a criminal past, having been convicted on third-degree burglary charges in 1996 and sentenced to serve time and probation.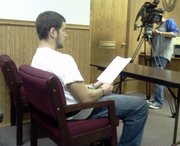 LaFountain said that through the investigation, police believe that Taylor and Rennie knew each other and that Rennie was the target of violence.
"We believe that the defendants sought out Mr. Rennie and attacked him on the street above where his body was found," LaFountain said.
(Continued on Next Page)
Prev Next
Vote on this Story by clicking on the Icon