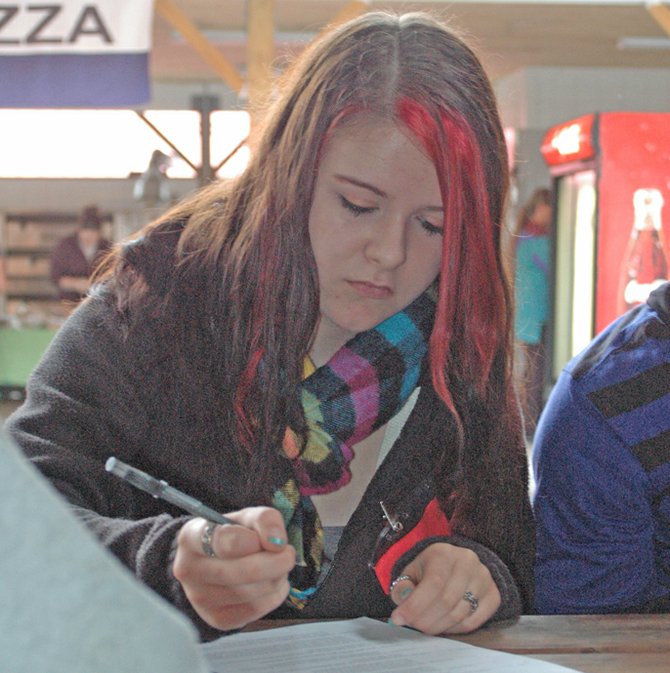 continued — Students became passionate about their cause, Wyant said.
"I had a cousin that passed away after smoking synthetic pot and I have seen a lot of friends get really sick," Elizabethtown-Lewis Central School senior Hannah Bender said. "It was amazing and I wanted to know what we could do to make sure that this stuff was illegal to buy. It was too easy to get and too dangerous."
Bender said she approached Wyant at school to ask what the students could do. Eventually, they started a petition to send to government officials asking for the ban and were joined by schools throughout the county.
"I thought it was awesome," Bender said. "Once everyone joined in, we had a stack of petitions like a novel. It was extraordinary that this happened."
Bender and others joined with students from area schools and adults, like Erin Burdo of the Elizabethtown Social Center and Karen Crowingshield and Grant Martin of Elizabethtown Community Hospital, to seek a ban on the sale and possession of synthetic marijuana. They held a petition drive, a rally and contacted state representatives.
"It's a real success story," MacDevitt said. "Our kids allied with adults and moved the state to action. There were folks in other areas of the state with concerns, but it seems like Essex County raised the alarm and really made a difference.
"As a public health issue, the kids themselves saw it as a danger," he added. "The kids led the fight and others in the community got involved. Because of all the attention most stores in the area stopped selling it before the (state) ban."
Wyant said that along with helping to promote the government ban on synthetic pot, the students also saw that their voice had an impact.
"This is a teachable moment, for sure," he said. "I am really proud of them."
Vote on this Story by clicking on the Icon