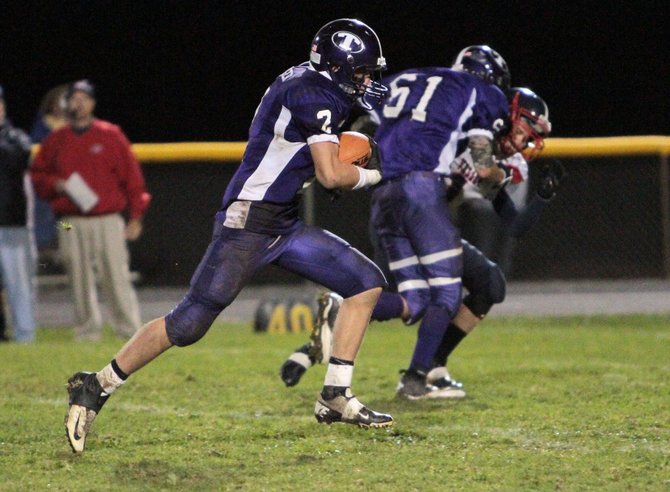 Ticonderoga posted a dominating homecoming victory while Moriah lost in Champlain Valley Athletic Conference football play Sept. 29.
Ticonderoga 42, AVCS 6
Normally a power, grind-it-out team, Ticonderoga used the arm of quarterback Mike Graney to beat AuSable Valley, 42-6.
Photo Gallery
Ticonderoga v.s. AuSable Valley Football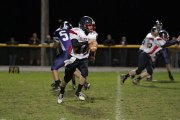 Ticonderoga win against AuSable Valley with a final score 42 to 6
Graney threw for three touchdowns to pace the Sentinel win. He hit 6-of-11 passes for 97 yards.
After Miles Austin scored on a yard plunge to give Ti a 7-0 lead, Graney went to work. He hit C.J. Raymond with a 9-yard scoring strike and connected with Anthony DuShane on a 19-yard scoring play as the Sentinels built a 21-6 halftime lead.
Jarryn Granger kept things going for Ti, returning the second half kick off 77 yards for a score. Graney then threw a16-yard scoring strike to DuShane and Austin closed out the offensive explosion with a 50-yard TD run.
Ty Denno had a big night for Ticonderoga, intercepting a pair of AVCS passes and booting all six extra points.
While Ticonderoga enjoyed a big game through the air, Austin still managed to run for 105 yards on 15 carries.
Beekmantown 29, Moriah 20
A spirited Moriah comeback fell short as the Vikings lost to Beekmantown, 29-20.
The Eagles raced to a 29-6 lead behind Devin Fessette before Moriah managed to turn things around. Fessette ran for 90 yards and a pair of touchdowns.
Taylor Whalen got Moriah on the board with a 30-yard TD run in the second period to make it a 14-6 game.
After Beekmantown had extended its lead to 29-6, Cameron Wright broke free for a 38-yard TD gallop for the Vikings. Cole Gaddor passed to Ryan Shpur and Moriah trailed, 29-14.
Gaddor then connected with Whalen on a 3-yard scoring pass in the final quarter to make it a 29-20 game, but Moriah's comeback hopes were dashed when Beekmantown recovered the ensuing on-side kick.
Wright ran for 100 yards on 15 carries for Moriah. Gaddor connected on 8-of-14 passes for 79 yards.
Vote on this Story by clicking on the Icon