continued — "Performing is a natural high," Wendler said. "Here I am, showing you what I can do—it takes it to another level."
Wendler explained that different roles require different actions, which also takes the art form to a different level for her.
A villain's hands are positioned differently than a non-villain's, and the motions are stark, sharp and demanding.
In contrast, as the Queen of the North Winds she must use her body to emulate the movement of snow and how it relates to the occurrence of a snow storm that builds in intensity with the music.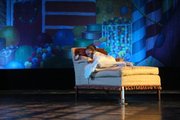 Since the show has been co-choreographed by Rebecca Kelly, whom Wendler has worked with for nine years, she and the North Country dancers will be on the same page for their first full-cast rehearsal, which will happen just days before opening night.
"The nice thing is, I've worked with some of these students before, so I'm not a total stranger coming in," Wendler said. "It's inspiring for me. I want to encourage them to dance and enjoy it."
Wendler added that she hopes that, in working with young ballet students, she can show them it is possible to become a professional ballerina, so long as they possess passion and are willing to commit to the full-time hours the art requires.
"To be a ballerina you have to have a strong mind and be strong in yourself," Wendler said. "Ballet is not an easy world to be in, but if you love what you do it will come out in your art."
The Lake Placid Performances will take place at the Lake Placid Center for the Arts on 17 Algonquin Drive in Lake Placid on Saturday, Dec. 1 at 7:30 p.m. and Sunday, Dec. 2 at 1 p.m. Ticket prices are $12 for children (ages12 and under); $15 for seniors and students and $18 for adults. For reservations or ticket information, call the LPCA at (518) 523-2512 or visit LakePlacidArts.org.
Vote on this Story by clicking on the Icon