continued — Teagan Plimpton, a 17-year-old senior at Peru High School who is playing five roles in the Nutcracker, can relate.
"You don't ever get everything the first time you try it," Plimpton said.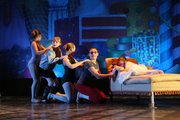 Besides school work and picking a college to attend after she graduates, Plimpton attends 2-hour-long ballet classes and practices that can last more than two hours several times a week, and has attended summer intensives, an intense summer camp for ballerinas.
Having danced since she was three, it's safe to say it's an intrinsic part of her life, like eating, sleeping and breathing.
"I like expressing myself through music," Plimpton said. "It's totally worth the work."
Staying with ballet hasn't always been easy, though. Besides the time it demands, Plimpton has never had full range of motion with her left hand, making it difficult for her to pull off some of the subtleties of certain ballet moves.
Her solution was to learn to work around the problem, a methodology that has paid off.
"When I first did the Nutcracker, I started off as a Bonbon," Plimpton explained. "This year I'm playing North Wind, Chinese, Candy Cane, Arabian and Dew Drop."
Plimpton is excited to play so many roles, but she's even more excited to share the stage with Therese Wendler, a professional ballerina from New York City who will play the Sugar Plum Fairy and Queen of the North Winds in the Snow variation in this year's performance.
Wendler has been performing the Nutcracker since she was seven, and said the show—with its dancing mice and spinning snowflakes— hasn't lost its power for her.
"I think it's the music," Wendler said. "Tchaikovsky is absolutely beautiful. After all these years, there are still parts that build up emotionally in the music."
As a child, Wendler began taking ballet lessons after her mother saw her walking around the house on her tip-toes. At first she didn't care for it, but performing changed her mind.
Vote on this Story by clicking on the Icon