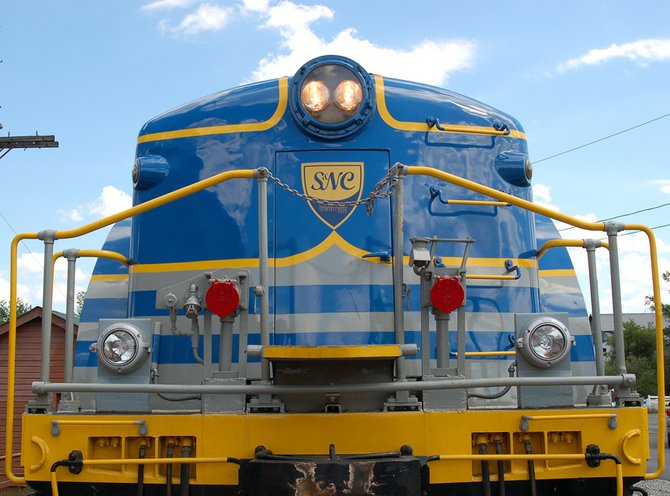 North Creek — Freight trains should be rolling along the Saratoga & North Creek (SNC) Railway tracks within the next two months, according to railroad officials.
It would be the first active freight train here in 23 years, said 28-year-old Justin Gonyo, a North Creek native who was hired in August as the railway's general superintendent. He's a fourth generation railroad worker; his father and grandfather worked on these tracks when the Delaware & Hudson (D&H) Railway owned them. Now it's his turn. He feels the sense of history, and he's glad to be a part of it.
"It's really indescribable," Gonyo said. "I don't want to get corny or anything, but just to be part of the process of setting up the first shipment of freight down this line since 1989 is a pretty big achievement for me in my career."
Gonyo's railroad career is entering its fifth year, and thanks to his experience on the D&H and its parent company, the Canadian Pacific (CP) Railway, he's ready to help the SNC's parent company, Iowa Pacific Holdings, get some return on its investment. The company has already spent millions of dollars along the rail line since the summer of 2011, fixing tracks, setting up The Exchange at North Creek retail shop, and establishing passenger service and specialty trains between here and Saratoga Springs.
"I'm very happy to see their commitment to the overall well-being of the businesses in North Creek and the surrounding areas," Gonyo said.
There's a reason SNC General Manager Steve Torrico says "Freight is great." That's how the railway will make its money.
The Sanford Branch purchase alone cost $1.5 million. The SNC bought the 30-mile line between North Creek and the Tahawus mine from NL Industries (formerly known as National Lead Company). This is the railway's road to riches, so to speak. It leads to North River, home of the Barton Mines garnet processing plant, and to the old titanium mine at Tahawus, where tailings and granite are ready to be shipped out of the Adirondacks and put to industrial use.
(Continued on Next Page)
Prev Next
Vote on this Story by clicking on the Icon