Photo Gallery
Terra Nova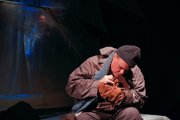 Saranac Lake — "In the winter of 1911-1912, five Englishmen and five Norwegians raced each other to the bottom of the earth. Only the five Norwegians returned. This is the story of the Englishmen."
Thus starts the gripping play, "Terra Nova." As the opening quote suggests this is a show that will grab you from the beginning. Soon you'll feel the icy wind of the Arctic whipping against your face, feel fear tighten its grip on your throat, feel like you have been thrown straight into the heart of the South Pole.
Terra Nova is a masterfully written play about the human condition, survival, and the courage one must find when staring into the icy face of adversity.
An honest opinion
It is a cold, dark North Country night. I find myself in an un-heated car with my friends and quite significant other. Where were we headed? Pendragon Theatre.
Located in the village of Saranac Lake the Pendragon Theatre is the Adirondack's premier professional year-round theatre. We pulled into the quaint venue and headed inside to purchase our tickets (which we reserved ahead of time to guarantee our admission). Being used to seeing mainly college theatrical productions those in our car shuddered at the $22 adult ticket price, regretting that we no longer had valid student i.d's. None-the-less we tightened the belts on our wallets and crossed our fingers, hoping for a show that was worth spending our weekly grocery money on.
The moment the lights came up we knew that we had made the right choice, ramen be damned, this was a great show! The actors portrayed their characters so well that you forgot that you were sitting in a theatre. There was no show, only a vast expanse of frigid Arctic snow and the five members of Robert Scott's fated expedition to reach the South pole.
(Continued on Next Page)
Prev Next
Vote on this Story by clicking on the Icon