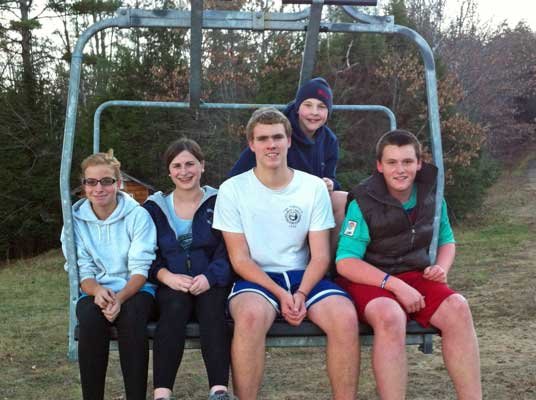 JCS Alpine Ski Team Schedule
Dec. 27 Royal
Jan. 9 West
Jan. 14 Willard
Jan. 16 West
Jan. 21 Gore
Jan. 28 Willard
Feb. 2 Royal
Feb. 6 West
Feb. 12 Sectionals/Gore
Feb. 25-26 States/Whiteface
North Creek — Johnsburg Alpine Ski Team Coach Pete Burns and Assistant Coach Steve Ovitt are looking forward to a good season for their team with lots of snow.
The 11-skier squad includes seniors Shannon Ovitt, John Ordway and Ryan Olson. The rest of the skiers are Courtney Allard, Megan Miller, Jamie Bruce, John Stark, Justin Schmale, Brandon Tyrel, Patrick Harrison and Adrian Achat.
"We have a fairly young team this season with three skiers new to racing, but we also have a few kids that should do well," Coach Burns said. "Our goal for Courtney, Shannon and Ryan is to have them solidly place in the top 15 consistently, which will earn them points towards the state meet."
The goal for the rest of the team is to build on what they have been working on the past seasons. They got a good start on the slopes this past week with practice runs on Gore Mountain, which opened its season on Nov. 23.
"Brandon, Megan, Justin, John Ordway and Patrick have all improved their technique substantially and are skiing well so the goal with them is to improve on last season's results," Coach Burns said. "Jamie, John Stark and Adrian are all new to racing so the goal there is to work on their technique and get them comfortable in a race course."
ROSTER - JCS Alpine Ski Team
Shannon Ovitt
John Ordway
Ryan Olson
Courtney Allard
Megan Miller
Jamie Bruce
John Stark
Justin Schmale
Brandon Tyrel
Patrick Harrison
Adrian Achat
Head Coach: Peter Burns
Vote on this Story by clicking on the Icon