Willsboro boys varsity basketball schedule
Thursday, Nov. 29... at Alzheimers tourney, Moriah
Friday, Nov. 30... at Altheimers tourney, Moriah
Tuesday, Dec. 4... at Schroon Lake
Friday, Dec. 7... v. Johnsburg
Wednesday, Dec. 12... v. Elizabethtown-Lewis
Friday, Dec .14... v. Crown Point
Thursday, Dec. 20... v. Westport
Thursday, Jan. 3... at Lake Placid
Tuesday, Jan. 8... at Chazy
Friday, Jan. 11... at Minerva/Newcomb
Wednesday, Jan. 16... v. Schroon Lake
Friday, Jan. 18... v. Indian Lake/Long Lake
Friday, Jan. 25... v. Keene
Wednesday, Jan. 30... at Elizabethtown-Lewis
Friday, Feb. 1... at Westport
Tuesday, Feb. 5... v. Lake Placid
Friday, Feb. 8... at Wells
Wednesday, Feb. 13... v. Chazy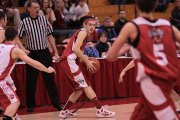 Defending D champs hit hard by graduation
WILLSBORO — The Willsboro boys varsity basketball team is having the same issues major college hoops teams deal with - almost no one returning from a championship squad.
While the Warriors are not dealing with anyone leaving early from the defending Section VII Class D champion, they were hit hard by graduation, according to head coach Jim Spring.
"We have only three players returning from last year's team with any varsity experience," Spring said. "Brandon Porter is our only returning starter, with Walker Lobdell and Nick Arnold seeing limited playing time last year."
With working in a completely new lineup, Spring said that the results will be seen more toward the end of the season.
"We're focusing on becoming fundamentally strong and hope to improve as the year goes on," he said.
Spring will be assisted by Terry Cross and Mike Douglas.
Roster
Brandon Porter 12; Walker Lobdell 12; Sam Politi 12; Seth Swires 11; Nick Arnold 11; Jarrid Mcvicker 11; Vadim Krivitckii 11; Jake Hubbard 10
Willsboro varsity girls basketball schedule
Wednesday, Dec. 5... v. Schroon Lake
Friday, Dec. 7... v. Johnsburg
Tuesday, Dec. 11... at Elizabethtown-Lewis
Friday, Dec. 14... v. Crown Point
Wednesday, Dec. 19... at Westport
Thursday, Dec. 27... at Moriah tournament
Friday, Dec. 28... at Moriah tournament
Wednesday, Jan. 9... v. Chazy
Friday, Jan. 11... at Minerva/Newcomb
Tuesday, Jan. 15... at Schroon Lake
Friday, Jan. 18... v. Indian Lake/Long Lake
Friday, Jan. 25... v. Keene
Tuesday, Jan. 29... v. Elizabethtown-Lewis
Thursday, Jan. 31... v. Westport
Friday, Feb. 8... at Wells
Tuesday, Feb. 12... at Chazy
(Continued on Next Page)
Prev Next
Vote on this Story by clicking on the Icon
More like this story