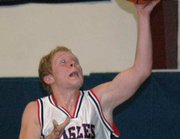 Westport varsity boys schedule
Wednesday, Nov. 28... v. Keene
Tuesday, Dec. 4... v. Elizabethtown-Lewis
Wednesday, Dec. 12... v. Chazy
Friday, Dec. 24... at Keene
Thursday, Dec. 20... at Willsboro
Thursday, Jan. 3... at Schroon Lake
Tuesday, Jan. 8... v. Lake Placid
Friday, Jan. 11... v. Wells
Wednesday, Jan. 16... at Elizabethtown-Lewis
Friday, Jan. 18... at Johnsburg
Friday, Jan. 25... v. Crown Point
Wednesday, Jan. 30... at Chazy
Friday, Feb. 1... v. Willsboro
Tuesday, Feb. 5.... v. Schroon Lake
Friday, Feb. 8... v. Minerva/Newcomb
Wednesday, Feb. 13... v. Lake Placid
Friday, Feb. 15... at Indian Lake/Long Lake
Westport boys program continues to build for 2012-13
WESTPORT — The Westport varsity boys varsity basketball team will look to put some markers on the left side of the dash mark in 2012-13.
"We look to improve as the year goes on," head coach Michael Tyler said. "Learning how to play as a team is going to be our major objective. How quick we understand the team concept (offensively and defensively) will determine our final record."
The Eagles return several members of their 2011-12 squad, which struggled through a 0-15 season.
"Our team goals for the season are to work hard and to learn something from every practice and game," Tyler said. "Our team has been very positive this preseason and is working very hard. We look to have the whole team contribute to our success this year as we don't have any star players."

Roster
Player Grade
Gabe Schrauf 12; Tyrel Tryon 11; Ryan Davis 11; James Moricette 11; John Doyle 11; Chris Clark 11; Robert King 11; Anderson Gay 9; Jonathan Gay 9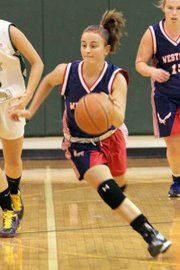 Westport girls varsity basketball schedule
Wednesday, Dec. 5... at Elizabethtown-Lewis
Tuesday, Dec. 11... at Chazy
Friday, Dec. 14... at Keene
Wednesday, Dec. 19... v. Willsboro
Friday, Jan. 4... v. Schroon Lake
Friday, Jan. 11... v. Wells
Tuesday, Jan. 15... v. Elizabethtown-Lewis
Friday, Jan. 18... at Johnsburg
Friday, Jan. 25... v. Crown Point
Tuesday, Jan. 29... v. Chazy
Thursday, Jan. 31... at Willsboro
Wednesday, Feb. 6... at Schroon Lake
Friday, Feb. 8... v. Minerva/Newcomb
Friday, Feb. 15... at Indian Lake/Long Lake
(Continued on Next Page)
Prev Next
Vote on this Story by clicking on the Icon
More like this story