Roster
Player Pos. Grade
Katie Stuart G 12; Kiara Cote G 11; Sidney Kulzer F 11; Allison Richards G 11; Jesse Weigand G 11; Lizzie Zurek F 11; Lindsey Maroun G/F 10; Malorie McClear F 10; Ryanne O'Conner F 10; Hayley McCottery G 9
Schedule
Saturday, Dec. 1... v. TI/Alex Bay
Wednesday, Dec. 5... v. OFA
Friday, Dec. 17... at Massena
Wednesday, Dec. 12... at Norwood-Norfolk
Saturday, Dec .15... v. Malone
Friday, Dec. 21... v. Saranac Lake
Saturday, Dec. 29... at Northeastern Clinton
Wednesday, Jan. 2... v. Potsdam
Saturday, Jan. 5... v. Saranac
Wednesday, Jan. 9... at OFA
Friday, Jan. 11... at Malone tournament
Saturday, Jan. 12... at Malone tournament
Wednesday, Jan. 16... at Canton
Saturday, Jan. 19... v. St. Lawrence
Saturday, Jan. 26... at St. Lawrence
Monday, Jan. 28... v. Salmon River
Wednesday, Jan. 30... v. Northwood
Wednesday, Feb. 6... at Saranac
Friday, Feb. 8... at TI/Alex Bay
Saturday, Feb. 9... v. Norwood/Norfolk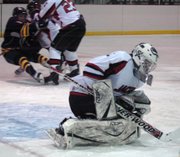 Lumberjacks ready to take to ice
TUPPER LAKE — The Tupper Lake Lumberjacks will look to use the regular season to prepare for a sectional run in 2012-13.
"The Lumberjacks are looking to be competitive in the always difficult section X schedule and look to prepare themselves for the playoffs," head coach Dan Cook said. "It is a long season and we work to get better day in and day out so that we perform at our peek in February."
The team will be led by senior goaltender Marcus Richer, senior forwards Jon Kopp and Josh Fletcher, along with junior forward Broyce Guerette.
"We start the season with 13 newcomers balanced nicely with 11 returners," Cook said. "We look to play strong defensive hockey with quality goaltending from Richer and company. We are going to need strong contributions from our returners and some young players to jump in and produce quality minutes."
Roster
Garrett Kopp, Tyler Nilsson, Tystan Lohr, Cam McGillis, Josh Pickering, Devin Roberge, Nathan Yamrick, Maddie LaVigne, Thomas Sexton, Broyce Guerette, Hudson Sparks, Josh Fowler, Dylan Lohr, Josh Fletcher, Tyler Clark, Jon Kopp, Gabe Burns, Brandon Picerno, Ben Geiger, Nick LaMere, Tim Fuller, Elliott Fletcher, Marcus Richer, Nathan Boyea
Vote on this Story by clicking on the Icon