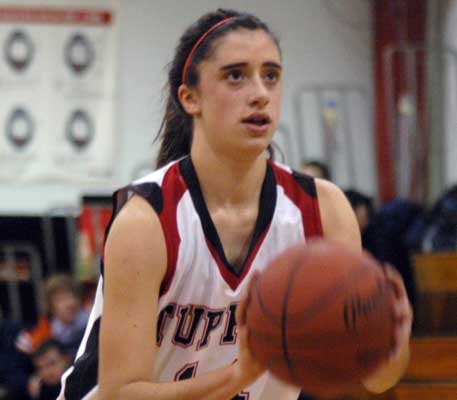 Schedule
Thursday, Nov. 29... at Saranac Lake
Friday, Nov. 30... v. Canton
Tuesday, Dec. 4... v. Norwood-Norfolk
Thursday, Dec. 6... v. Saranac Lake
Tuesday, Dec. 11... at St. Lawrence
Tuesday, Dec. 18... v. Brushton-Moira
Friday, Dec. 21... at St. Regis Falls
Friday, Dec. 28... at St. Regis tournament
Saturday, Dec. 29... at St. Regis tournament
Friday, Jan. 4... v. Parishville-Hopkinton
Monday, Jan. 7... at Madrid-Waddington
Thursday, Jan. 10... v. Chateaugay
Thursday, Jan. 17... v. Madrid-Waddington
Friday, Jan. 25... at Norwood-Norfolk
Tuesday, Jan. 29... at Canton
Thursday, Jan. 31... v. St. Lawrence
Monday, Feb. 4... v. Colton-Pierrepont
Thursday, Feb. 7... at Brushton-Moira
Lady Lumberjacks seek to reclaim Section X/Class C championship
TUPPER LAKE — While the Tupper Lake Lady Lumberjacks varsity basketball team will look to replace several players from the Section X championship team, they will have the league's co-MVP back.
"We lost seven seniors from our Section X Championship squad last season," Jennifer Cook said. "We return with our leading scorer and NAC East Division Co-MVP Katie Stuart. I have high expectations for her as she enters her senior season. She will need to continue to be our team leader and maintaining that MVP level of play."
Cook said there are several players that she will look to as they see their roles increased.
"We also return Lizzie Zurek and Lindsey Maroun from last year's squad," she said. "They will move into starting roles this season. I will need my three returning players to step up and play at a high level in order for us to be successful."
Cook said that the rest of the team is still coming into focus, but hopes to be right back in the hunt for a sectional title.
"Girls will work hard and fight for those last two spots in practice everyday until our first game to see who comes out on top," she said. "Of course we set high expectations here and would like to return to the Section X title and repeat. In order to do that we will have to work hard from day one and improve individual skill to be better as a team."
(Continued on Next Page)
Prev Next
Vote on this Story by clicking on the Icon