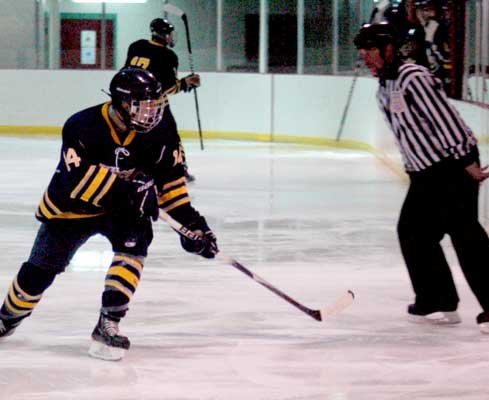 Schedule
(tentative - there will also be weekly races against Saranac Lake at Mount Pisgah)
Saturday, Jan. 19... at Old Forge
Wednesday, Jan. 30... Winter Carnival
Thursday, Jan. 31... Winter Carnival
Tuesday, Jan. 12... at Snow Ridge
Monday, Feb. 25... States
Tuesday, Feb. 26... States
Three on alpine team
LAKE PLACID — Three Lake Placid skiers will take to the hills this season.
Matt Young's Blue Bombers alpine ski team will include sophomore Emily Eaton along with freshmen Forest Ledger and Erin Skufka.
"We have a small dedicated team of three skiers who are already hard at work with their preseason training," Young said. "All three skiers are returning from successful seasons in 2011-2012 and hope to continue their success. All three have goals of qualifying for the New York State Championships at the end of February.

Young said the key for the athletes will be to focus on increasing their fitness before the snow flies and ski specific training can begin.

"Everyone on the team is committed to staying healthy, excited about skiing, and maximizing every opportunity for success throughout the long winter season," he said.
Lake Placid boys hoops
Tuesday, Dec. 4... at Chazy
Friday, Dec. 7... v. Minerva/Newcomb
Wednesday, Dec. 12... v. Schroon Lake
Friday, Dec. 14.. at Johnsburg
Tuesday, Dec. 18... at Elizabethtown-Lewis
Thursday, Jan. 3... v. Willsboro
Tuesday, Jan. 8... at Westport
Friday, Jan. 11... v. Keene
Wednesday, Jan. 16... v. Chazy
Friday, Jan. 18... at Wells
Friday, Jan. 25... at Indian Lake/Long Lake
Wednesday, Jan. 30... at Schroon Lake
Friday, Feb. 1... v. Elizabethtown-Lewis
Tuesday, Feb. 5... at Willsboro
Friday, Feb. 8... v. Crown Point
Wednesday, Feb. 13... v. Westport
Lake Placid girls hoops
Dec. 7 or 8... v. AuSable Valley at PSUC
Wednesday, Dec. 12 ...v.v. Seton Catholic
Friday, Dec. 14... at Ticonderoga
Wednesday, Dec. 19... at Plattsburgh High
Vote on this Story by clicking on the Icon