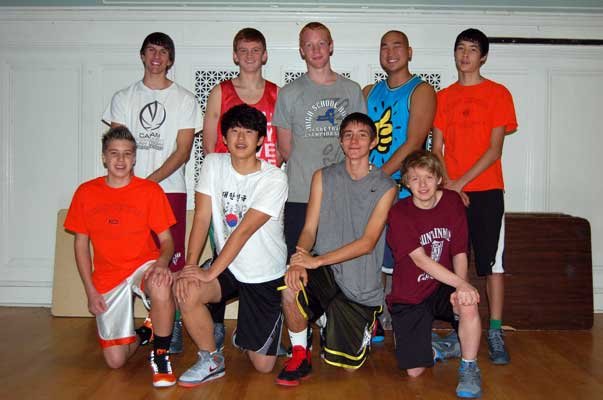 Boys Basketball Schedule
Wednesday, Nov. 28... at Westport
Tuesday, Dec. 4... v. Johnsburg
Friday, Dec. 7... v. Etown
Monday, Dec. 10... v. Wells
Friday, Dec. 14... v. Westport
Tuesday, Dec. 18... at Minerva/Newcomb
Thursday, Jan. 3... v. Indian Lake/Long Lake
Tuesday, Jan. 8... at Crown Point
Friday, Jan. 11... at Lake Placid
Wednesday, Jan. 16... at Johnsburg
Friday, Jan. 18... at Chazy
Friday, Jan. 25... at Willsboro
Wednesday, Jan. 30... at Wells
Friday, Feb. 1... vs. Minerva/ Newcomb
Tuesday, Feb. 5... at Indian Lake/Long Lake
Friday, Feb. 8... v. Schroon Lake
Wednesday, Feb. 13... v. Crown Point
The KCS boys are back!
KEENE — For the first time in three years, there will be Beavers on the Mountain and Valley Athletic Conference's varsity boys basketball schedule.
The Keene program will re-start this year with a 10-player roster that will have to learn the varsity game quickly under coach Chad Lopez.
"We are looking forward to competing in the MVAC again," Lopez said. "With a young team we are not focused on our record this season but hope to gain some knowledge and respect moving forward with the program. Keene is well known for its sportsmanship and that will continue to be a focus for our team. We encourage fans to come out and support our team home or away."
Lopez said that based on their JV experience, he was looking to guards Colton Venner and Gabe Warner along with forward Brandon Dumas to be leaders, along with starters Maxx Sturgess and newcomer Austin Brown.
Boys Basketball Roster
Player Pos. Grade
Gabe Warner G 11; Maxx Sturgess F 11; Seok Jae Hong F 11; Colton Venner G 10; Brandon Dumas F 10; Austin Brown G 10; Warren Ashe G 10; Mathew Holmes G 10; Tim Montez F 9; Justin Haverlick G 9
Keene girls varsity basketball schedule
Wednesday, Dec. 5... at Johnsburg
Friday, Dec. 7... v. Elizabethtown-Lewis
Tuesday, Dec. 11... v. Wells
Friday, Dec. 14... v. Westport
Wednesday, Dec. 19... v. Minerva/Newcomb
Friday, Jan. 4... at Indian Lake/Long Lake
Wednesday, Jan. 9... v. Crown Point
Tuesday, Jan. 15... v. Johnsburg
Friday, Jan. 18... at Chazy
Friday, Jan. 25... at Willsboro
Tuesday, Jan. 29... v. Wells
Thursday, Jan. 31... at Minerva/Newcomb
Wednesday, Feb. 6... v. Indian Lake/Long Lake
Friday, Feb. 8... v. Schroon Lake
Tuesday, Feb. 12... at Crown Point
(Continued on Next Page)
Prev Next
Vote on this Story by clicking on the Icon
More like this story