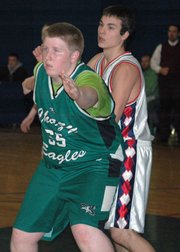 Chazy boys varsity ready for new season
CHAZY — The Chazy boys varsity basketball team will again come off the soccer field and right onto the basketball court.
With soccer stars Brandon Laurin, Justin Brothers and Craig Botten new ready to anchor the basketball squad, head coach Cory Thompson feels his team will be athletic.
"This year's basketball team looks to be quick and powerful on both ends of the court," Thompson said. "Returning to the lineup are Brothers, Botten and Laurin, along with juniors Hayden Guay and Alec Lapierre."
Thompson said that with several other players back in the mix, he hopes the team will be in contention for the second ring in a Class D triple crown.
"This team looks to once again be a sectional contender in the league, and looks forward to playing together as a unified team this season."
Chazy boys varsity basketball roster
Player Grade Pos.
Craig Botten 12 F; Justin Brothers 12 C; Tanner Chauvin 12 C; Eric Coupal 12 F; Brandon Laurin 12 G; Kaleb Miller 12 G; Justin Roy 12 G; Andrew Eseltine 11 F; Hayden Guay 11 G; Alec Lapierre 11 F; Brenden Ryan 11 F; Keenen Hampton 9 G
Vote on this Story by clicking on the Icon
More like this story