AuSable Valley varsity boys basketball roster
Player Pos. Grade
Austin Depo F 12; Nate Casey G 12; Brandon Brooks F 11; Connor Kennedy F 11; Riley Peck F 11; John Goodnough G 11; Austin Facteau G 11; Shane Douglas G 11; Kyle Coolidge F 11; Nick McDonald F 11; Zach Cosgrove G 10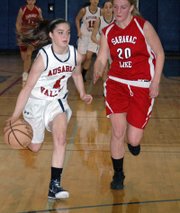 AuSable Valley girls varsity basketball schedule
Saturday, Dec. 7... v. Lake Placid at PSUC
Wednesday, Dec. 12... at Moriah
Friday, Dec. 14... v. Northern Adirondack
Wednesday, Dec. 19... at Peru
Friday, Dec. 21... v. Saranac
Friday, Jan. 4... at Seton Catholic
Monday, Jan. 7... v. Malone
Wednesday, Jan. 9... v. Plattsburgh High
Friday, Jan. 11... v. Ticonderoga
Tuesday, Jan. 15... at Beekmantown
Thursday, Jan. 17... at Northern Adirondack
Thursday, Jan. 24... v, Saranac Lake
Tuesday, Jan. 29... v. Moriah
Thursday, Jan. 31... at Northeastern Clinton
Tuesday, Feb. 5... at Lake Placid
Thursday, Feb. 7... v. Seton Catholic
Tuesday, Feb. 12... at Ticonderoga
Thursday, Feb. 14... at Malone
Lady Patriots look to compete for Section VII/Class C championship
CLINTONVILLE — The AuSable Valley girls varsity basketball team will look to make an impact in Class C this season.
Dropping from the ranks of Class B for the 2012-12 season, head coach Roger Long hopes the season will give his team the chance to build on its strengths.
"Our strengths are shooting, quickness, basketball IQ and being a cohesive unit," Long said. "Team keys are staying healthy and competitive everyday. Our weakness will be size."
The Lady Patriots will be in the mix for the Division II title for and Long said there are tough teams in both divisions.
"We hopefully will win Division II for the sixth year in a row, and hope to compete for the Class C sectional title," Long said. "Beekmantown, Plattsburgh and Saranac are the teams to beat in Division I, Northern Adirondack and Moriah in Division II."
Vote on this Story by clicking on the Icon