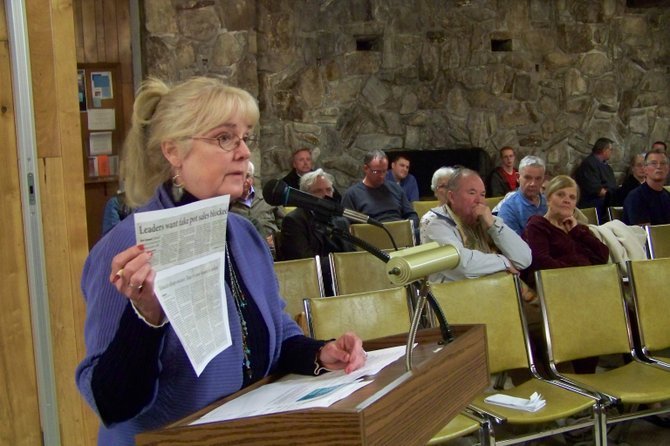 LAKE GEORGE — The controversy over whether to allow five-story and larger hotels to be built in Lake George Village heated up this week, as a leading local citizen accused a village advisory board of discouraging public input.
At the Nov. 19 meeting of the Lake George Village Board, Joanne Gavin of the Lake George Citizens Group aired a complaint about the conduct of a member of the Lake George Zoning Steering Committee, accusing him of being arrogant and suppressing public participation in determining the future of the village. While she didn't reveal the man's name, sources said the person in question was Tom Sullivan, who has served on the village Zoning Board of Appeals.
She told the board that his conduct was counter to Mayor Robert Blais' stated objective of encouraging public input in the process.
Gavin indicated Sullivan was attempting to squash opinions against relaxing zoning laws to allow taller buildings in the village.
She said that Sullivan said that the Steering committee "had no obligation nor responsibility to listen to the community."
She asked that the Village Board, which appointed the members of the steering committee, replace him on the board.
Blais responded that he would listen to the recordings of the meeting to hear what occurred, but he believed in not interfering with or influencing the proceedings of a village committee after he and the board have appointed its members.
He said the Steering Committee members had all pledged to be impartial, but they do indeed hold viewpoints on the zoning issues.
"The committee members do have particular opinions, but they are passionate enough about the future of the Village to be fair about the deliberations," Blais said. "Someone's conduct has to be extremely inappropriate to be removed."
Gavin responded that full public participation was vital in such consequential proceedings.
(Continued on Next Page)
Prev Next
Vote on this Story by clicking on the Icon