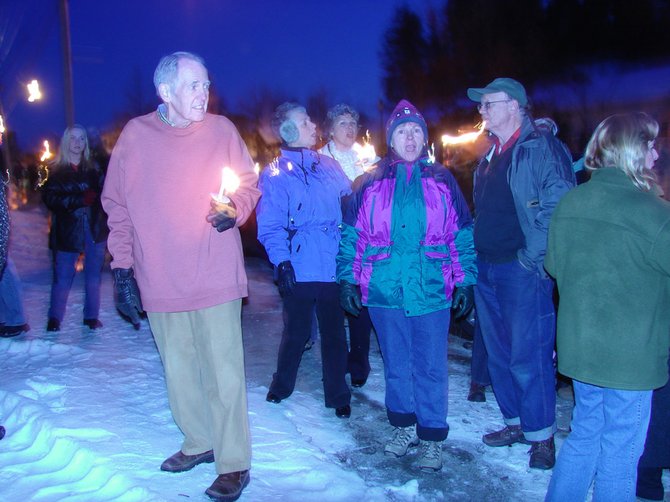 North Creek — The month-long Lights On holiday celebration kicks off in one week, and organizers are making last-minute preparations to make sure this year's event is one to remember.
People interested in participating in the annual Lights On parade have one week to sign and prepare a float or walking unit. For more information, contact Lisa Thomas, 251-0815 (Trimmers) or Laurie Arnheiter, 251-4461 (Hudson River Trading Company). The parade is open to residents throughout the region, not just residents of the town of Johnsburg.
Here is a tentative schedule of the early Lights On activities:
•Friday, Nov. 30: Community Bank Christmas Open House from noon to 3 p.m.
•Friday, Nov. 30: 5 p.m. tolling of the Methodist Church Carillon officially sounds the beginning of "Lights On" for the 2012 holiday season.
•Friday, Nov. 30: Lighting of the community Christmas tree, which was made available by Rob Wing and family and Volt Landscaping. It will be preceded by welcome comments around 5 p.m. from Supervisor Ron Vanselow, a candlelight service dedicated to our service people led by Pastor Wayne Schoonmaker, and caroling led by Denise and Frank Conti, concluded with the playing of "Taps" by a lone bugler.
•Friday, Nov. 30: Owens House Educational Center open house with punch and cookies with Santa and Mrs. Claus. Bring your camera to photograph your children talking to this well-known couple.
•Saturday, Dec. 1: Breakfast with Santa. Enjoy a fresh cooked meal of pancakes, scrambled eggs, bacon, milk, juice and coffee at the North Creek Volunteer Fire Company. 7-11 a.m. Cereal will be provided as a choice for those who prefer. Adults $5, kids $3 and children 3 and under will be free. Visit with Santa and let him know what's on your Christmas list. Santa will have a little something for each child. Bring your cameras. Hosted by the North Creek Volunteer Fire Company Support Team.
(Continued on Next Page)
Prev Next
Vote on this Story by clicking on the Icon