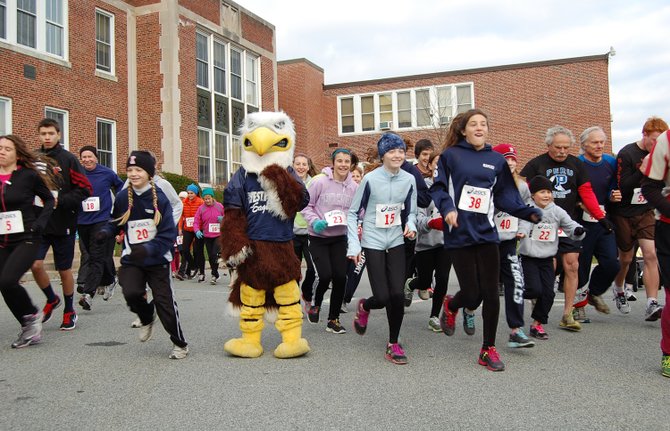 Westport — Runners from 70 to 2 years old showed up at the Westport Central School on Nov. 17 to show support for the Westport Parent Teacher Association for "Fly Like an Eagle" 5K Fun Run/Walk.
Race Winners by Category
Overall winner: Sean Davis 18:15
Female 7 to 10: Rachel Storey 35:15
Male 7 to 10: Evan Ohlsten 30:55
Female 11 to 14: (Tie) Ellie Storey and Taylor Gough 29:21
Male 11 to 14: Schylar Kurth 22:05
Female 15 to 18: Cheyenne Cramer 26:43
Male 15 to 18: Jack Newberry 20:37
Female 19 to 29: Terry Conley 26:03
Male 19 to 29: Sean Davis 18:15
Female 30 to 49: Bridgette Blemel 26:12
Male 30 to 49: Jason Fiegl 21:33
Female 50 to 69: Janice Kyle 30:26
Male 50 to 69: Michael Davis 18:32
Male over 70: Frank Woodward 25:28
"We were absolutely thrilled with the turnout - especially for a first time event," Laurie Sells-Davis of the WPTO said. "We had 59 runners, plus one dog."
With the advantage of two more running legs, Janice Kyle's dog, Jackson, accompanied her around the course.
"He is my favorite running partner," Kyle said.
The runners did the 5k course down the around the town of Westport, up to the Essex County Fair grounds, around the track and down Sysco Street before finishing at the school.
"This is a thinking persons race," but luckily for the racers a guide waited at every corner to direct them in the right direction.
Davis said there oldest runner was over 70 and the youngest was two years old.
Elizabeth Olson skipped in front of her mother to hop over every crack in pavement and a small pile of dirt.
"Lets go, C'mon," Elizabeth said. Though she started full of enthusiasm, her mother, Heather, soon helped her finish the race in a stroller.
(Continued on Next Page)
Prev Next
Vote on this Story by clicking on the Icon