Ticonderoga — Ticonderoga High School Principal Mike Graney is stepping down.
Graney will become principal at Bolton Central School Jan. 1.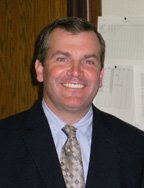 "This is a very difficult decision," said Graney, who has been Ti High principal the past 11 years. "I've learned a lot and enjoyed my time here tremendously. It's really just a matter of seeking out new challenges.
"I know many people in Bolton and admire their (school) district," he added. "It feels like a nice fit for me personally and professionally."
John McDonald, Ticonderoga Central School superintendent, said Graney will be missed.
"Mike has done a fantastic job as principal," McDonald said. "He has worked hard to become an educational leader and has been instrumental in developing new programs, most recently the marine technology and alternative high school.  Mike has also helped set the standard of high expectations which has led to our top 2 percent ranking in U.S. News and World Report. 
"I am very proud of his accomplishments and we will certainly miss him," the superintendent said, "but wish him all the best as he continues on his career path."
Graney is a "Ti guy." He is a Ticonderoga native and graduated from Ticonderoga High School. He has spent his entire career, except 2 1/2 years at Putnam Central, as a teacher, coach and administrator in the Ti school district.
"I'll really miss the people I work with and the kids," he said. "I put a lot of thought into this; it's a tough decision to leave. I'm confident, though, that Bolton is a great fit."
Graney will be principal for Bolton's entire pre-kindergarten through 12th grade school. The district has about 230 students.
There are nearly 300 students at Ti High.
"There's not a big difference in the number of students I'll deal with, but it's been a while since I've had daily contact with elementary children," said Graney, who started his career as an elementary teacher. "I'm looking forward to it."
(Continued on Next Page)
Prev Next
Vote on this Story by clicking on the Icon