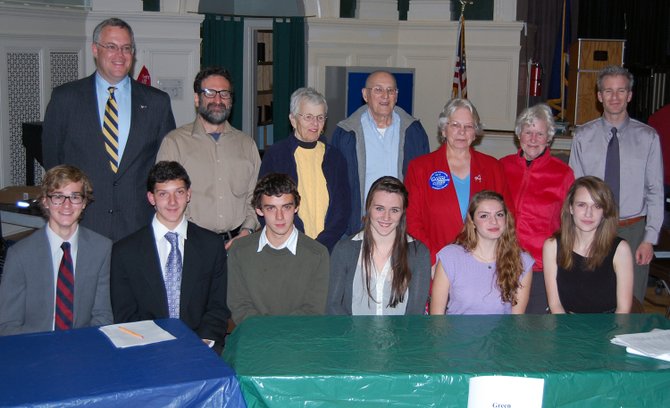 Keene Valley — Students, some still too young to vote, actively promoted political party platform awareness for a public discussion on the issues surrounding the 2012 presidential candidates on Nov. 1 at Keene Valley Central School.
Six senior students, each with a party community member, held the forum, representing the Democratic, Republican, Green, Socialism and Liberation, and the Constitutional party.

"This is not a debate but an educational forum," said Brad Hurlburt, KCS Social studied teacher said.
Floor members
For the democratic party, senior Hannah McCabe was joined by Phyliss Buchanon.
For the Republican Party, KCS senior Jeffrey Bruha was joined by Republican Assembly Candidate for Warren County Dan Stec.
For the Green Party, KCS senior Sam Balzac was joined by Green Party member Steve Ruzbacki.
For the Socialism and Liberation, KCS senior Jack Van Wie was joined by Ray Losso.
For the Libertarian party senior Victoria Patenaude was joined by Monique Weston.
For the Constitution, KCS senior Athena Pepe was joined by Arlene Geibe.
All members of the six parties represented on the New York State ballot for president an opportunity to equally talk about five talking points that the six students in Brad Hurlburt's Government Class selected after listening to the three presidential debates between President Barak Obama and Governor Mitt Romney.
"One of the goals of the evening was to continue to have the Republican and Democratic party represented but to also let people be informed about the perspectives of the four additional parties that are fielding a candidate on the NYS ballot," Hurlburt said.
The students began the forum by introducing the core values and platforms of each political party they were representing. The students followed their introductions with five talking points: climate change, civil liberties, war on terror, world economy, and social issues such as the party's position on Roe vs. Wade and race equality.

(Continued on Next Page)
Prev Next
Vote on this Story by clicking on the Icon