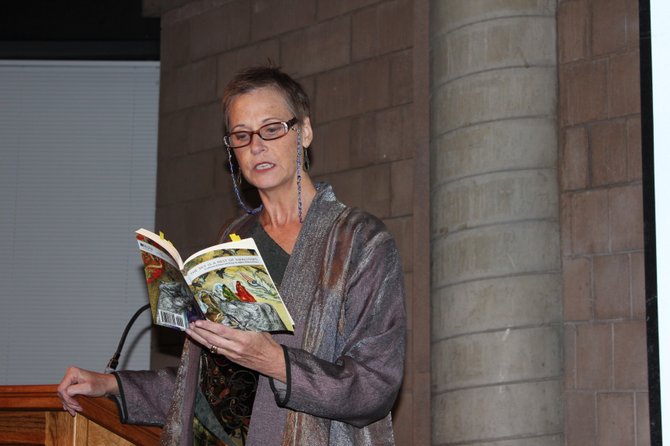 PLATTSBURGH — Telling a story is a human right, but not in every corner of the world.
In Afghanistan, being a woman means not having a voice. It means you might be forced into marriage with someone you don't love, and it means your child might be taken from you if that marriage fails.
On Nov. 16, 1999, Zarmeena, a mother of seven, was executed by the Taliban in the Kabul's Ghazi Stadium for allegedly killing her husband.
When writer Masha Hamilton saw a video of the execution, she became determined to uncover Zarmeena's story.
In the process of her investigation she learned a lot about the lives of women in Afghanistan, and soon became determined to give those same women a voice.
After visiting the region, Hamilton founded the Afghan Women's Writing Project in May 2009.
"Women in Afghanistan are probably the most repressed women on earth and our goal is to get their stories out," said Elisabeth Lehr, workshop director for the AWWP in Jericho, Vt. "What happens in Afghanistan is very filtered by the media. We want to get the voices out of the people that are there and are living the reality of life in Afghanistan."
The AWWP works closely with Afghan women and helps give them an outlet for their voices.
Mentors, who are carefully selected via an application process and must be published writers, work with the women and help them develop their pieces, which are then published in an online magazine at awwproject.org.
"About 85 percent of the women in Afghanistan are non-literate," Lehr said. "We work with them and help give them language skills and computer skills."
It is dangerous work for everyone involved, which is why the writers only use their first names and are sometimes anonymous.
"It speaks loudly about the potential risk of being female in Afghanistan, and it also speaks very loudly about the spirit of the women in Afghanistan to want to take that risk," Lehr said.
(Continued on Next Page)
Prev Next
Vote on this Story by clicking on the Icon