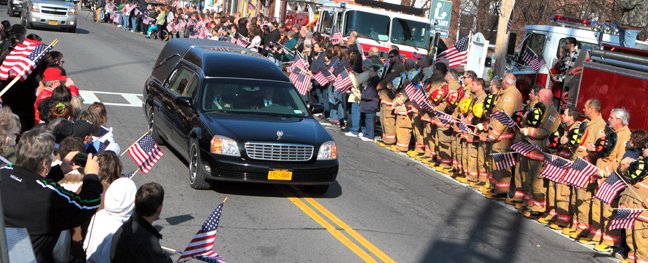 continued — Patty Kolodzey of Port Henry said the turn out was more than a tribute to Venne.
"He was a wonderful boy and he comes from a wonderful family," Kolodzey said. "This speaks to how much we think of the Venne family."
Cindy Coogan's husband has spent 24 years in the military, serving two tours in Iraq. He's now on active duty assisting people in the aftermath of Superstorm Sandy.
"My heart goes out to his family," the Witherbee woman said. "He gave his life for our country. It's because of people like Dain that we enjoy the lives we do. We need to remember all the sacrifices made by our military men and women."
Grace French of Witherbee has known the Venne family for years. Her son played football at Moriah Central with Dain's father Brian and her grandsons played with Dain.
"This is so sad," French said. "I've known the Venne boys for a lot of years. They're great people. I feel so badly for them."
Venne's funeral will be at St. Patrick's Church in Port Henry at 11 a.m. Tuesday, Nov. 13. Calling hours will be 4 to 8 p.m. Monday, Nov. 12, at the Harland Funeral Home on Main Street in Port Henry.
Venne died along side Specialist Brett E. Gornewicz from Alden and Specialist Ryan P. Jayne from Campbell.
The men were assigned to the 444th Engineer Company, which is headquartered in Oswego. The unit is an element of the 178th Engineer Battalion of the 412th Theater Engineer Command.
Lt. Col. Doril Sanders of the 412th TEC said the men were combat engineers conducting "route-clearing" duties for a convoy when an improvised explosive device blasted their vehicle.
Venne had completed an earlier tour of duty in Iraq and was serving one in Afghanistan.
Vote on this Story by clicking on the Icon