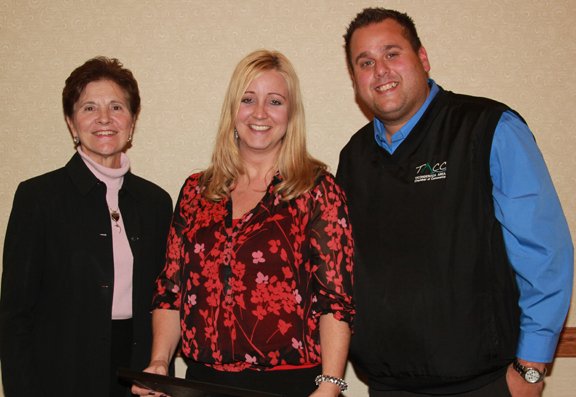 continued — The businesses and organizations that donated to make this event possible included the Best Western, Burgoyne Grill, Boyea's Grocery & Deli, Burleigh's Luncheonette, Century 21 Adirondacks, Christopher Chevrolet, Community Bank, Corner Market, Denton Publications/Times of Ti, Dunkin Donuts of Ticonderoga, Eddie's Restaurant, Frenchy's, Glens Falls National Bank, Grover Hills Deli, Gunnison's Lakeshore Orchards & Bakery, Happy Star Chinese Restaurant, The Hot Biscuit Diner, House of Pizza, Inter-Lakes Health, Knights of Columbus of Ticonderoga, McDonalds of Ticonderoga, Montcalm Liquor, Rathbun Jewelers, Silver Bay YMCA, Subway, Sugar Hill Manor Bed & Breakfast, The Lake Champlain Inn B&B, The Millers Antiques, Ticonderoga Federal Credit Union, Two Brothers Meat Market, Wagon Wheel Restaurant and Wal-Mart of Ticonderoga.
More than 125 people attended the event, which was hosted by Courtright, Rathbun of Rathbun Jewelers and Merfeld of the Times of Ti.
"We are so pleased to see so many faces representing our many members, businesses, organizations, volunteers and the community here this evening," Courtright told the crowd. "I would like to thank all of you, the many volunteers, businesses and organizations that we are here tonight to celebrate and honor. Without your continued dedication to the community, the chamber and the many events, projects and organizations we would not be here tonight and all we work so hard for would not be possible.
"Within the area we truly have a wonderful group of dedicated community members who work so diligently to provide services, opportunities, growth, support and events for the area," he said. "I look forward to continue working and serving the area and the community with all of you. Tonight we thank and honor all of you for not only your support of the chamber and the community, but all that you give of yourself for the betterment of the Ticonderoga area."
The Ticonderoga Area Chamber of Commerce serves, markets and promotes the Ticonderoga area including, Ticonderoga, Crown Point, Hague, Moriah and Putnam. The TACC plans and hosts free community events, events that draw area visitors, assists area organizations with their events and projects, provides small business support and resources and business referrals, answers community and visitor questions and requests via phone, Email and mail, sends visitor area information upon request, keeps an online calendar of events, as well as an array of benefits for its members.
For more information on the Ticonderoga Area Chamber of Commerce go online at www.ticonderogany.com or "Like" on Facebook or follow TiconderogaADK on twitter.
Vote on this Story by clicking on the Icon