continued — The 2012 Community Volunteer of the Year is Bob Dedrick.
"This award goes to a community member who has changed the community for the better," Rathbun said. "This person does this by serving on committees, donates time and energy, and has worked effortlessly for the betterment of the community. This person serves and has served with the Kiwanis Club of Ticonderoga and the Ticonderoga Montcalm Street Partnership. This person also has volunteered for many organizations including the chamber as well as events and projects.
"The person is the perfect of example of a true volunteer," she added. "The recipient is a person who does not want or ask for recognition but volunteers to serve and make the community a better place. In addition this year's recipient has served Ticonderoga as a leader in so many ways. For his dedication to the community we are honored to present this award to Bob Dedrick."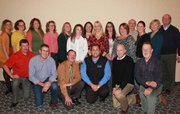 Each of the award winners received a New York State Assembly citation from Assemblywoman Teresa Sayward.
Sayward was the chamber's special guest for the event. She received a TACC Appreciation Award for her service to the Ticonderoga area, the North Country and for attending the volunteer appreciation dinner and awards ceremony for the last several years.
TACC Appreciation Awards were given to Emma Jean and Carl Okusky, Ticonderoga Montcalm Street Partnership, Relay For Life Committee, Distinguished Young Women of Ticonderoga Committee, Swift Maintenance, E.F. Nolan Building Contractor, Stewarts Shops and the International Paper Company Ticonderoga mill.
Prior to the awards being given out the Ticonderoga Area Chamber of Commerce Staff, Board,
Chamber committee chairs and ambassadors were also recognized during the event.
"Thank you to all of the amazing businesses, organizations and volunteers for all that you do for the Ticonderoga area," Courtright said. "I would also like to thank Peggy Lamb who volunteered to take all of the photographs at the event."
Vote on this Story by clicking on the Icon