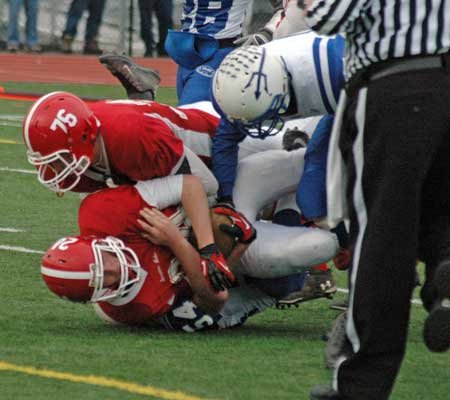 continued — Rivelino Hendrix closed the scoring for the Indians in the fourth quarter, totaling 25 yards rushing.
Quarterback Blake Altizer finished six-of 14 for 57 yards, a low total for Section VII's top passer, but did not throw and interception as the Indians ran for a total of 274 yards and all five scores.
In Class D, the Tupper Lake Lumberjacks and Moriah Vikings played a defensive thriller in the first round of the state regional tournament, with the Vikings scoring at the end of the third quarter to earn a 12-7 victory Nov. 2 in Massena.
Jeremy Roussel had 46 yards rushing for the Lumberjacks, who finished the season at 3-7. Mitch Keniston was 11-for-22 passing for 117 yards and one score, finding Brock Tarbox on a 29 yard pass play to give the team a 7-6 lead with less than two minutes remaining in the second quarter. Tarbox finished with 78 receiving yards.
Vote on this Story by clicking on the Icon