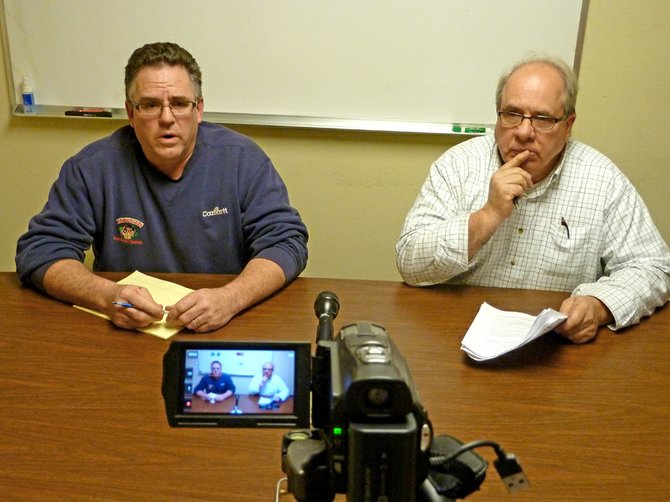 Saranac Lake — The two candidates for town of Harrietstown supervisor Thursday, Nov. 1 finally met to debate the issues in a closed-door session at the Adirondack Daily Enterprise offices.
Unfortunately, the there were technical difficulties uploading the entire video; however, we've included the entire audio file of the debate here. Listen to answers to one or all the questions or listen to the full debate at the bottom of the page.
Audio clips
Harrietstown Supervisor Debate 2013
Harrietstown Councilman Bob Bevilacqua (R) and Saranac Lake Village Trustee Tom Catillaz (D) answered questions about various issues, including the Adirondack Regional Airport, town business park, economic development, Trudeau Institute, the proposed rail trail, and the working relationship between the town and the village.
Denton Publications Assistant Managing Editor Andy Flynn and Enterprise Senior Staff Writer Chris Knight asked the candidates a series of questions about issues important to town residents. The debate was video and audio tape recorded. The video will be uploaded to YouTube and a link will be posted on the newspapers' websites. The audio will be aired on the Mountain Communications radio stations (WNBZ-AM 1240 and Rock 105, 105.5-FM and 102.3-FM) around 9:30 a.m. Saturday, Nov. 3.
Three time's the charm, as the first two public debates scheduled for the Town Hall were canceled: Oct. 16 because Catillaz temporarily suspended his campaign for 10 days and Oct. 29 because of high-wind warnings as Hurricane Sandy moved up the East Coast.
The Nov. 1 debate was informal and held in a conference room, with Enterprise Managing Editor Peter Crowley keeping time and Flynn and Knight moderating as they asked questions. The candidates had 2 minutes to answer each question and 30 seconds for a rebuttal, if they chose. With opening and closing statements and 12 questions, the debate lasted about one hour.
Audio clip
FULL Harrietstown Supervisor Debate 2012
Vote on this Story by clicking on the Icon