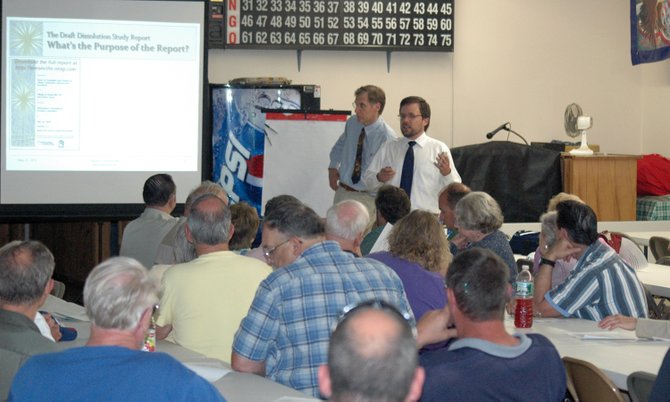 continued — The third option, which was brought up by some in the audience, was to file a voter petition to force a vote. Weidemann said that while there may be some who want to force the issue now, it is best to wait until the town has a plan in place.
"In order to have the vote, the state says that you need to have this plan," he said. "It is better to do it this way then make the village work on a much tighter timeline."
Several commented on the turnout at the meeting, with only around 60 in attendance in a village of approximately 2,100 residents.
"Not all of the people here are from the village," village resident Don Loreman said. "They are the ones that need to be here so they know what is going on."
"It was a very nice, informative meeting," village resident Lola Lopez said. "I know that there are some other ideas out there that need to be brought to this forum, though."
"We have received lots of input and are always looking for more," Weidemann said. "Keep getting the word out and hopefully we will have an even bigger turnout next time."
Loreman said during the meeting that while the consultants were doing their job, he would rather hear from those who would be in the municipalities once the planning stages were over.
"I want to hear more from the people who will manage this area and these towns after the dissolution or the results of the study," Loreman said.
Chesterfield resident Jay Frank said that he was concerned that only village residents would have the chance to vote on the matter of dissolution.
"Positive or negative, it still has an effect on the towns of Ausable and Chesterfield," Frank said. "We should all have a say."
The committee will next meet at the end of June to finalize the study and possibly choose an option to move forward on a draft dissolution plan.
Vote on this Story by clicking on the Icon