Keeseville — Around 53 residents of the village of Keeseville and towns of Chesterfield and Ausable were at the Keeseville Volunteer Fire Department May 23 to hear the latest on the possible dissolution of the village.
The meeting was the second public forum between the community and the Keeseville Dissolution Committee, along with consultants Peter Fairweather and Tim Weidemann.
In this meeting, residents had the chance to see and question the consultants and members of the committee on the draft dissolution study, which looks at several options for the village.
"The question is not just one of whether the village should dissolve or not," Fairweather explained. "There are different ways to look at this and avenues to explore. That is what the study does."
"The study does not recommend if the village should dissolve or not," Weidemann said. "It looks at how it would affect those who live in the village, what would change in terms of services and how or if those services would be provided if the village was gone."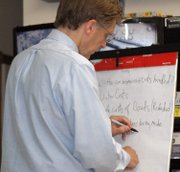 The consultants presented three options to those in attendance, each dealing with a dissolution of the village government.
Weidemann said that the study was part of the process of reaching a dissolution plan, which would be submitted by the committee for acceptance of rejection by the current village board.
"The study looks at the options, while the plan takes one option so residents can look at it and vote yes or no," Weidemann said. "We will continue to revise this until we come up with the final draft, and then we will work with the committee to pick an option to start the draft dissolution plan."
Weidemann said that once the plan is submitted, three things can happen. The first is the village board moves the plan forward and residents vote, with the second being the board votes to not pursue dissolution.
(Continued on Next Page)
Prev Next
Vote on this Story by clicking on the Icon