continued — The second place Lions placed two golfers into the state tournament, as Tyler White made his second state team with a 167 two-day score and Brock Marvin earned the ninth spot on the team with a 169.
"It was a fun two days and it was good to make it to states for the second year," White said. "Last year, I went down trying to compete against all of these golfers in the state and found out that they were really good. This year, I just want to go down and golf my own game."
"It was such a sporadic day but in the end, you can't complain about it," Marvin, who shot a 77 on the opening day, said. "I hit the ball well, I just had some bad breaks."
Marvin said it was pleasing to accomplish the goal of making the state team.
"This was one of my goals throughout high school golf," he said. "I have put in all of the hours that I could and here I am."
Brock's brother, Connor, opened with an 81 in his first full round of golf since heart transplant surgery. He finished with a 176, four shots off the pace for states.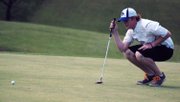 "Not only was it awesome to see him out there, but to see him in contention through 27 holes was amazing," Brock, who received a heart transplant in December of 2010, said. "The meds that you take make you shaky and you are still tired after laying in a hospital bed for so long, but he played through that. I'm sure this was a huge boost for him and he will be doing just fine next year."
"I played well the first day," Connor said. "I made putts on the first day, but then they were not falling. It's good to be playing and good to be back."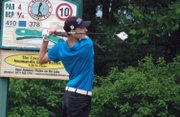 "He is eight weeks out of the hospital and had not done more then nine holes before this 36-hole event," ELCS coach and Connor and Brock's father, Smitty Marvin, said. "His golf game has been there and he proved it. It's a dream come true to see them both out on the course healthy and in contention for the state team and individual title."
Nolan Reid of Northeastern Clinton (153) finished third, while Beekmantown's MaCullen Cope (168) was seventh and Plattsburgh High's Lucas Wood (168) eighth.
Vote on this Story by clicking on the Icon