"I've had goose bumps since I saw it more than two weeks ago," Loffler said before Glowa's opening remarks. "It's very cool."
Summing up the carousel in one thought, Loffler said, "It's really spectacular that the community came together. Every little detail on the carousel was volunteered from someone, and so it's really wonderful."
Yes, the Adirondack Carousel was her idea, supported by her former husband, the late Chuck Brumley, and many friends and neighbors.
"But that's the easy part," Loffler said of the idea. "Building it was the hard part."
What they built was a 3,500-square-foot pavilion at the village's William Morris Park that houses a carousel with 18 hand-carved and painted animals native to the Adirondack Park, plus a handicap-accessible "chariot" — a replica of a Chris-Craft speed boat. The remaining six animals carved for the carousel are on display and will be rotated periodically.
In the fall of 2011, elementary school students from the Saranac Lake Central School District named most of the animals: Flipper (Bass), Paws (Bear), Chuck (Beaver), Bug-Eye (Blackfly), Bubbles (Great Blue Heron), Moonlight (Bobcat), John (Deer), Thunder (Draft Horse), Soarin (Eagle), Flames (Fox), Lilly (Frog), Harry (Hare), Lucy (Loon), Beethoven (Moose), Oliver (Otter), Spike (Porcupine), Ranger (Raccoon), Red Storm (Red Squirrel), Wiggly (Salamander), Spencer (Skunk), Twitter (Thrush), Buck (Toad), Shelly (Turtle) and Tommy (Brook Trout).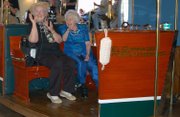 Before the public could ride the carousel, three sets of special guests had the honors first: the carvers, then the elementary school students who participated in the ribbon-cutting ceremony, and then the artists who painted the animals, the 10 wildflower medallions and the 10 rounding board panels on the carousel.
Guest speakers included Rep. Bill Owens (D-Plattsburgh), state Sen. Betty Little (R-Queensbury), state Assemblywoman Janet Duprey (R-Peru), Saranac Lake Mayor Clyde Rabideau and Dick George, a carousel volunteer who was speaking on behalf of the Saranac Lake Area Chamber of Commerce. A ribbon-cutting ceremony included local elementary school children hand picked by their principals and the Saranac Lake High School senior who created the "blackfly" artwork chosen for the official Adirondack Carousel T-shirt, Maria Clark, who also cut the yellow ribbon.
Vote on this Story by clicking on the Icon