The Adirondack Carousel in Saranac Lake began its first run Saturday afternoon, May 26, with the help of a banjo and a frog.
Under the din of oohs, ahhs, laughter and picture-taking, Kermit the Frog's original rendition of "The Rainbow Connection" from "The Muppet Movie" in 1979 could be heard as the carousel's carvers took the inaugural run, ahead of the general public and invited dignitaries.
"Someday we'll find it, the rainbow connection. The lovers, the dreamers and me."
There is a rainbow on the carousel, painted in one of the 10 mountain scenes on the rounding boards above the animals. And there is a frog, Lilly, carved by Myrl Phelps.
And the man who picked the carousel music — Wayne Tucker — lives in the hamlet of Rainbow Lake.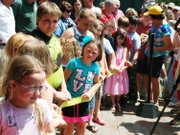 Still, Adirondack Carousel Board Chair Marge Glowa suspects that "it probably was a sheer coincidence." After all, the second song played on Saturday was the "Star Wars" theme, and there were no storm troopers or Wookies around.
Sure enough, Tucker confirmed her suspicion; it was a coincidence.
End of the rainbow
And at the end of this rainbow is the Adirondack Carousel, linked by almost 12 years of dreaming, hard work and perseverance.
"Twelve years ago, this carousel was a dream of one local woman who is also a carver. Her name, as many of you know, is Karen Loffler," Glowa said during the opening ceremonies. "And Karen's dream has finally become a reality. This is with a vision to involve, encourage and inspire all youth to appreciate where we live, be environmentally responsible, enjoy the great outdoors of the Adirondacks, to be healthy and to have fun while doing it all."
Loffler — who carved the otter — stood at the front of the crowd, close enough to the sound system to give tips on microphone feedback (she's a singer, too) but far enough away to enjoy the moment.
(Continued on Next Page)
Prev Next
Vote on this Story by clicking on the Icon