Saranac Lake — Southeast Asia came home to Saranac Lake on Monday, May 28, as guest speaker JR Owens gave a tribute to the men and women who served in the U.S. Armed Forces during the Vietnam War.
After the parade down Broadway and Main Street, from the Veterans Memorial Association to the band shell at Riverside Park, Owens first spoke of the military draft held on Dec. 1, 1969. Open to all men born between 1944 and 1950, it was the first draft since World War II. Blue plastic capsules — 366 of them containing days of the year — were put in a large glass jar. They were plucked out of the jar, and the men with birth dates that matched were drafted in order. The first date was Sept. 14. In all, 195 dates that year were the first to be drafted.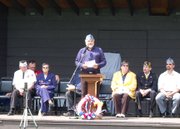 Lotteries were held each year until 1975, with the eligible birth dates changing by one year each year. For example, in 1969, the lottery applied to men born as of 1950. In 1970, that date changed to 1951. In 1971, it was 1952 and so on.
"In the draft lottery for my birth year of 1952, my administrative processing number was 280," Owens said. "This lottery changed the course of my life forever."
Owens shared some statistics provided by the Vietnam Helicopter Crew Members Association.
"Ninety-one percent of Vietnam veterans say they are glad they served," Owens said. "Seventy-four percent of Vietnam veterans said they would serve again, even knowing the results."
Owens reminded the crowd that the U.S. military did not lose one major battle in Vietnam.
"The fall of Saigon happened two years after the military from America left Vietnam," Owens said. "How could we lose a war we had already stopped fighting? We fought to an agreed stalemate in 1973."
(Continued on Next Page)
Prev Next
Vote on this Story by clicking on the Icon