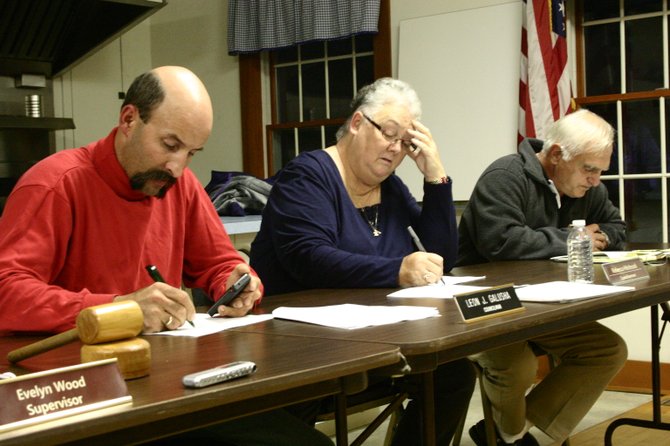 continued — Lifelong friend Charlotte Needham spoke May 29 of Hitchcock's modesty.
"Becky never looked to be in headlines, she'd just do things because she wanted to," Needham said.
Wood said that Hitchcock had a deep concern for others in need, which was expressed through not only the town Christmas Basket program, but the town food pantry. Wood said Hitchcock spent many hours helping ordering food and stocking the pantry.
"Becky was very, very concerned about those in town that needed food — and through her work, she took the food pantry to another level," Wood said. "Becky was involved in everything, and yet she responded even if I called her at the last minute for extra help."
Hitchcock's additional activities included organizing the local Defensive Driving courses. Wood also noted that Hitchcock took her political post seriously, attending various training courses to sharpen her knowledge of public policy.
"She was deeply interested in doing her job and doing it well," Wood said.
Hitchcock was appointed to the town board in August 2010, and she was not challenged in a subsequent election. She has been credited with bringing a moderate approach and A collaborative influence to town politics during challenging times.
A source in town government said the board would likely soon be appointing someone to fill out Hitchcock's term.
Wood said it was too early to even think about such an issue.
"Our goal now is to get the Hitchcock family through this," she said.
A memorial reception is to be held Tuesday evening at the Thurman Town Hall in Athol in honor of Hitchcock, immediately following her funeral at 6 p.m. May 29.
Town offices will be closed beginning at noon that day in a gesture of remembrance, and sotown employees can attend the calling hours and services.
Charlotte Needham paused as she reflected on Hitchcock's deep and permanent impact on the fabric of life in Thurman.
"Becky was an all-around good person — She'd do anything to help anybody," Needham said. "Becky really loved life."
Vote on this Story by clicking on the Icon