Ticonderoga — Ticonderoga Middle School students never cease to amaze Kyle Lang.
"I'm so proud of our kids," said Lang, an English teacher at the school. "People constantly comment on how polite and well-behaved our students are. It never fails that our kids exceed all our expectations."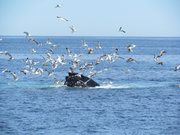 Lang should know. He just took 67 seventh grade students to Massachusetts on the school's annual whale watch trip.
This year students spent three days and two nights in Plymouth and Boston. They visited historic sites and museums along with taking a whale watch on the Atlantic Ocean.
Ti students have been making the trek for years. Lang has led the excursion the past 11 years.
"We actually have hotel staff and bus drivers look forward to our trip," Lang said. "Our kids have learned how to treat others with respect and it shows."
This year students also learned about fund raising. For the first time the trip was funded entirely by student efforts. The school district cut the whale watch from the school budget this year.
Students raised more than $20,000 for the adventure through sales, drawings and other activities.
"It was a total student effort," Lang said. "It was a lot of work, but I think the kids really appreciated what it takes to raise that kind of money.
"We were also very fortunate to have wonderful community support," he added. "Who bought all those raffle tickets? It was our community."
For more than 30 years seventh grade students at Ti Middle School have gone on an overnight outdoor education trip. This year students spent three days and two nights in the Boston area.
While there they visited the Plymouth Plantation, the Boston Museum of Science and Northeastern University. They also toured Plymouth, walked the Boston Freedom Trail and went on a whale watch.
(Continued on Next Page)
Prev Next
Vote on this Story by clicking on the Icon